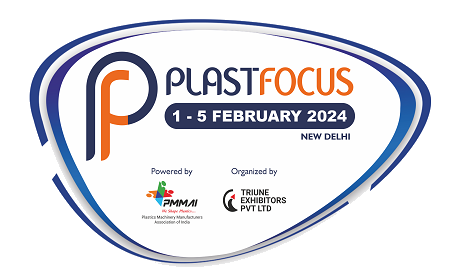 Bengaluru, Karnataka, September 06 —] After a successful edition as INDIAPLAST 2019 (NOW PLASTFOCUS), PLASTFOCUS 2024 returns for its 2nd edition as the leading Plastics exhibition in India. The exhibition happens at New Delhi from 1st – 5th February 2024.
Organised by Triune Exhibitors Pvt Ltd in association with the Plastics Machinery Manufacturers Association of India (PMMAI) PLASTFOCUS 2024 Exhibition will be the podium to compare the best in the world to the best in India. The show will constitute an ideal platform not just for maximum exposure of cutting-edge products & services to key Plastics sector players and top decision-makers but also for the kind of high-powered face to face business meetings and contacts that will take an Organisation forward in leaps and strides
The 5-day Exhibition will also include Technical Conferences themed on the industry and its innovations which have been designed to allow Exhibitors to experience multilateral approach to Exhibitions. This event will help Machinery manufacturers, Raw Material producers, associated industries, users and consultants a common platform to review the latest advances and futuristic trends, share operational experiences and discuss the requirements for smart business systems.
India is well recognized Plastic hub in the world because of its low cost production. Easy availability of labour and low cost of raw materials are also the factors that are driving Plastic Industry. India is one of the largest producer of Plastic in the world and is expected to become 3rd largest plastic manufacturer by 2022. Plastic production began in 1957 with production of polystyrene. As of now, there are more than 2000 exporters of plastic in the country and more than 30,000 manufacturing plants are available, most of which are small or medium sized enterprises. Plastic industry gave job to 4 million people in India.
Plastic industry produces many varieties of plastic in the country ranging from raw materials, laminates, plastic-moulded extruded goods, leather cloth and sheeting, polyester films, moulded/soft luggage items, writing instruments, plastic woven sacks and bags, fishnets, polyvinyl chloride (PVC), packaging, consumer goods, sanitary fittings, tarpaulins, electrical accessories, travel ware, laboratory/medical surgical ware and others.
Most of the raw material is manufactured in the country because of which availability of raw material is easy. Most of the plastic is exported from India to USA, UAE, Italy, UK, Belgium, Germany, Singapore, Saudi Arabia, China and Hong Kong. These countries contribute to 94% of Indian plastic exports.
Plastic packaging materials grabbed the highest market share of 27% among plastic products by use. Plates, films and sheets secured a market share of 26.5% followed by household articles at 7%, tubes, pipes, hoses and fittings at 5.1% and self-adhesive tapes, sheets and foils at 4.3%.
Triune Exhibitors Pvt. Ltd (TEPL) was founded in 2000. TEPL's core business is organizing Exhibitions and Conferences etc. The group acts as an interface between government, industry, media and academia. TEPL is amongst few Indian exhibition organizers with a commendable track record of having organised 52 Exhibitions on various subjects like Machine Tools, Electricity, Plastics, Printing & Packaging, Food-pro & Hospitality etc.
TEPL's robust sales, marketing, information technology, and ground operations teams enable the company to add value to their B2B and B2C exhibitions, ensuring business growth and maximum ROI for their customers.
Plastics Machinery Manufacturers Association of India (PMMAI) - The apex body of Plastics machinery manufacturers in India. Its members include an elite list of quality conscious, result-driven companies who have a track record of consistent performance. PMMAI shall work continuously for Indian plastics machinery to be world class in terms of quality, technology and cost competitiveness. PMMAI will be the catalyst for the whole plastics industry, including PMMAI members, for close co-operation to improve the image of plastics, have better public relations vis-Ã -vis Govt, NGOs and public at large, have interactions for industry growth.

For more information about PLASTFOCUS 2024 Please call on +91 7619267070 / 71 or
Email info@plastfocus.org website: www.plastfocus.org