COMBINING RHEOLOGY, VISCOMETRY AND EXTRUSIOIN TECHNOLOGIES
TO GET MAXIMUM OUT OF YOUR MATERIALS
Haake Rheomex Single Screw Extruder for Haake PolylabSystem
Analysis of rheological & processing characteristics of various materials.
Small sample requirement.
Simulate production processes & generate films/profiles for further testing.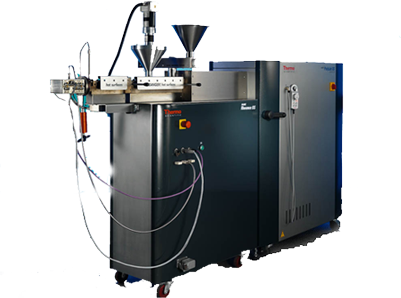 Haake Rheomix Lab Mixers for Haake Polylab System
Batch testing of highly viscous substances
Intelligent modular Torque Rheometer system for simulation of industrial processes.
On a small-scale characterize materials like polymers,elastomers, additives and fillers.

Gain knowledge through our recorded webinar:
Whether you support research, product development or production, these webinars are designed to enhance your knowledge of material characterization and solve everyday challenges found in industrial and research applications.

-Click here for details

Users of Thermo Scientific
Haake Lab Scale Batch Mixer/ Torque Rheometers Single Screw Extruders Twin Screw Extruders span across leading academic institutes like NPL Delhi, IIT Delhi,CIPET Chennai, IIT Patna as well India's top league business houses in polymer and petrochemical like Reliance Industries Ltd., SABIC India, IOCL...
to name a few
Scale up processes with confidence - From Lab to Line