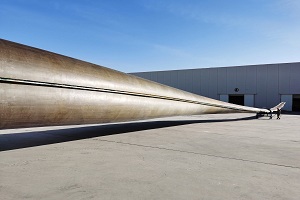 Materials manufacturer Covestro has developed the world's first 64.2-meter wind turbine blade made completely from polyurethane resin. The blade, made jointly with Chinese wind turbine manufacturer Goldwind, and wind blade manufacturer LZ Blades, marks the beginning of a new generation of longer and stronger PU blades for the wind power industry.
The polyurethane wind turbine blade, from the spar cap to the shear web and the shell, is made entirely of polyurethane infusion resin, making it the first of its kind in the global wind power industry.
Test results showed that the polyurethane resin displays better mechanical properties compared with traditional epoxy resin. As it does not require post-curing and has a lower viscosity and faster infusion speed, the polyurethane resin system can greatly improve the efficiency of blade production, thus increasing the competitiveness of blade manufacturers. In the end, the solution with the polyurethane resin is more cost competitive than the one with the epoxy resin.
In addition, Goldwind has optimized the structural design of the blade, giving better play to the advantages of polyurethane's mechanical properties and infusion speed and ensuring the smooth production of the blade.
With the rapid development of the wind power industry, larger wind turbine blades have become increasingly popular in the industry, resulting in higher requirements for various aspects of wind turbine manufacturing, including the infusion resin. As the inventor of polyurethane chemistry and a leader in its application, Covestro has been committed to providing innovative products and cost-effective integrated solutions for the wind power industry to ride the latest development trends. In further cooperation with industry partners, Covestro will continue to contribute to the efficient development of the wind power industry.
Source : Covestro