International Conference


on



Flexible Packaging
February 22, 2012, Inter Continental, The Lalit, Mumbai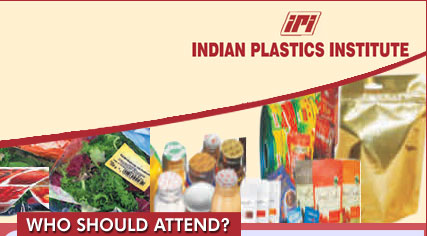 Flexible Packaging materials such as laminates/co-extruded multilayered films form a major end use application for many polymers. The demand for Flexible Packaging is growing rapidly. The basic understanding of polymer properties and their relevance in packaging film, process to produce the films, co-extruded films or laminates, testing methods, defect analysis, etc, will be of immense use to those who are associated with this industry and for those who will be associated with this industry.
Manufacturers of:
Raw Materials, Additives, Printing Inks
Machineries, Ancillary Equipments, Testing Equipments
Marketing & Export/Import of all Packaging materials
Processors, End Users, Consultants, Executives, Students
People planning to be associated with polymer plastics
& packaging industries

Inaugural Section
Trends & Perspective in Raw materials
- Polyethylenes for Packaging
- Metallocene Resins for Multilayer Packaging Films
- Lifeline Additives
Innovations in Machinery & technology
- PP Nonwoven A revolutionary fabric for Packaging
- Blown Films
- Coating & Laminating Technology
Solventless/Solventbased Water Based & Hot Melt Applications
Trends & Innovations in Flexible Packaging
- Shrink sleeves & Digital technology
- Flexible Packaging
- Lamitubes
Innovations in Printing, Decoration and Recycling
- Recycling & Sustainability
- Enduser Perspective
Reliance Industries Ltd.
-
Rajan Raje, Lifeline Technologies
Ms. Khushboo Doshi & Mr. Deven Mehta, Rajoo Engineering
Mr. Rakesh Shah - MD. WUH Group, Windmoeller & Hoelscher
Roberto Magnone, Div. Head - Coating & Laminating
Raulimex Industries Pvt. Ltd.
Kris Flexipacks
Mr. Debashish Ghosh - Innovation Specialist, Paper Products Ltd.
Mr. M.K. Banerjee, EsselPropack
Mr. Deepak Mehta, EREMA
Sanjay Ghoshal - Sr. Mgr. Global Packaging Capability, Unilever