Plastic Auxiliary Equipments

We announce the inauguration of our new manufacturing/office facility
which spreads over 100,000 sq ft. at Piplaj, Ahmedabad on April 17, 2011
A Joint venture with Conair Inc. USA
Ambitious target to rapidly expand its footprint in the growing Indian Plastic market.
With its global Headquarters and Global Technology Centre in Cranberry, USA, the company is on track of increasing Global Production Capacity.
The firm has invested great resources for the project which they believe will set new standards for Nu Vu Conair Pvt Ltd and the Plastic Auxiliary industry. The plant will be able to cope up with the Indian and surrounding demand in due time with the tremendous growth in the Plastic Industry. The facility also boasts of a state of the art assembly and paint shop. Along with its technological prowess, the plant also boasts of its eco-friendliness.
Nu-Vu Conair Pvt. Ltd.
Plot No. 147 & 148, Devraj Industrial Park,
Piplaj - Pirana Road, Piplaj, Ahmedabad 382405
Ph: +91-79-29094790 / 32985993, 9377483203 /4/5
Email ID: salesindia@conairgroup.com
Web: www.conairgroup.com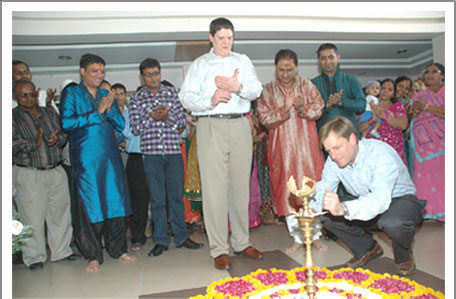 The new facility inaugurated by
Chairman/Director Mr. Chris Keller & Director Mr. Larry Doyle
Our new state-of-the-art facility at Ahmedabad incorporates a flexible and agile approach to manufacturing which will ensure that it is future ready and able to respond rapidly to changing customer needs. Key focus areas include people, the environment, connected manufacturing and operational excellence. The plant has been envisioned as the hub of innovation and technology for the Nu-Vu Conair, with several new products, which will be rolled out in this year.
......Process with Confidence...
Process with Conair....