Mangalbhai & Brothers are manufacturer, exporter & supplier of Extruder Screens for plastic, rubber, chemical & pharmaceutical extrusion process machinery. Cylindrical Extruder Screen used in plastic & rubber lamination plants. The Company makes Extruder Screens, Wire Mesh Screens, Circular Extruder Screens, Candle Extruder Screens, S.S & G.I wire mesh, Multilayer Circular Extruder Screens, Wire Mesh Disc Filters, Square Screens, Designed Extruder Screens, Perforated Metal Sheets, Gear Coupling, Chain Couplings, Flexible Shaft Coupl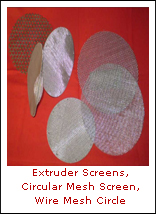 ings, HRC Couplings, Jaw Couplings, Hopper Magnets and Woolen Felt.
Extruder screens are used in rubber and plastic extruder machinery. Extruder screens are modified by the Extruder Screen Changer. Extruder screens are fitted behind the backer plate in the machine and melted plastic & rubber materials are pass through the extruder screens which gives a clean and clear extrusion product. Extruder Screens remove foreign particles from the melted plastic and rubber material. Extruder Screens size depends upon the size of the backer plate. Extruder Screens vary from 6mm to 1500mm in diameter. Extruder Screens made from stainless steel woven wire cloth have demonstrated superior performance in the melt filtration process. S.S Extruder Screens excel in durability and chemical resistance. Extruder Screens made from other materials are also available
Mangalbhai & Brothers were established in 1993. Mangalbhai & Brothers have grown to become the largest manufacturer and exporter of Extruder Screens for plastic, rubber, chemical and pharmaceutical processing machinery. HDPE/PP circular woven bags and fabrics manufacturer use the circular extruder screen. The company's business strategy

has focused on developing exports.

Multi Circular Mesh Screen,
Extruder Screens,
Wire Mesh Disc

Bevel Gear

Multi Mesh Cylinder Screen

Wire Mesh, Wire Mesh Cloth

Perforated Sheet

Wire Mesh Convyer Belt

Filters

Chain

Gear Coupling

Hopper magnet

Metal Bucket, Plastic Bucket


Mangalbhai & Brothers strongly believe that customer satisfaction is the key to success for any organization. For many years, Mangalbhai & Brothers has been the recognized expert in the design and processing of Woven Wire Mesh, Extruder Screens and Cylindrical Screens .
Mangalbhai & Brothers has always believed in the principle of "Quality, Assurance and Reliability". The company's main motto is dedicated to always maintaining the highest levels of quality products and a unique personalized approach to service provision. An incomparable quality and finish are the trump-cards of products of Mangalbhai & Brothers. The company's main aim is to ensure customer satisfaction by providing superior quality products at a low prize. Our workstation is equipped with specialized engineers and the latest computerized machinery. Our global network and manufacturing presence provides the means for Mangalbhai & Brothers to precisely meet our customers' delivery requirements.

Products: Multi Circular Mesh Screen | Bevel Gear | Multi Mesh Cylinder Screen | Filters | Chain |
Wire Mesh, Wire Mesh Cloth | Perforated Sheet | Wire Mesh Convyer Belt | Gear Coupling |
Hopper Magnet | Metal Bucket, Plastic Bucket