Manufacturer & Exporter of Color and Additive Masterbatch


Perfect Colourants & Plastics Pvt. Ltd is a pioneer and leading color and additive masterbatch manufacturer & exporter. The company commenced operations in 1987 and has been marketing its products under the brand name CONCENTRA™, usedw by leading polymer processors in India and abroad. Today PCPPL has manufacturing units in Western India (Vadodara & Daman). The company has its head office in Vadodara, Gujarat & branch offices in Mumbai & New Delhi.
PCPPL range covers a wide spectrum of quality products such as CONCENTRA™ brand colour, additive, conductive & biodegradable master batches for various thermoplastics. - PE / PP / PC / ABS / HIPS / NYLON / PET / PBT etc...
Quality & consistency in our products are rigorously subjected to various tests in our Quality Assurance Laboratory equipped with modern test equipments like Color Spectrophotometer, Lab cast & blown film extruder, MFI Tester, Injection molding, Specific Gravity, Muffle Furnace. Our technically skilled & qualified personnel make sure that the products manufactured are of the right quality with consistency.

Vision : To be a trusted and proven global manufacturer of Masterbatches. The prime concern to be a concerned Manufacturer comes from the driving vision of the company. Mission : To Excel…To Grow…To Reach Out…- to excel with the excellent professional decorum along with the concern for the quality products.


White Masterbatch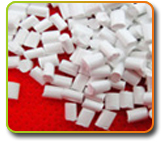 • Unique formulation recipe & additives
• Optimum opacity, high gloss
• Flexible packaging
• Weather resistant grade




---
Black Masterbatch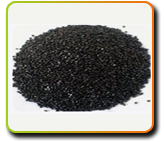 • Made with finer carbon & black pigment
• Agricultural, automotive, industrial
• Excellent results alone OR combination
• Excellent carbon black dispersion
---
Colour Masterbatch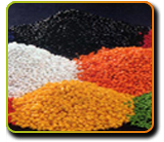 • Made with quality pigments
• Available with different shades
• Available in full range of shades
• General purpose or commodity
---
Special Additives Masterbatch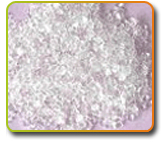 • Antistatic Master Batch
• Anti-block Masterbatch
• Anti Rodent Masterbatch
• Impact Modifier Master Batch
• Nucleating Master Batch
• Optical Brightener Master Batch
• Plastic Processing Aid
• Slip Additive Master Batch
• U. V. Master Batch
• To improve your processing conditions
• Used for film blowing and extrusion
• Available in different resin types
• Developed for use at a addition rate
---
Conductive Masterbatch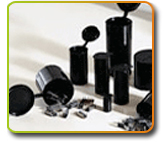 • Static Control Compounds
• Spark prevention reduces explosion
• Antistatic packaging
• Easy mixing & processing
---
Anti-bacterial Masterbatch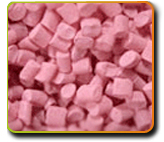 • Appearance is fine white
• Hygienic wall & floor coatings
• Protected against bacterial effects
• Low environmental impact
---
Biodegradable Masterbatch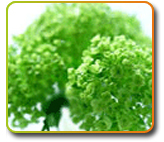 • Mulching film for agriculture
• Degradable plant pot
• For printing and smooth in handling.
• Food packaging films
---

Contact Us
Perfect Colourants & Plastics Pvt. Ltd.
Mr.Rupen Humad

303, PG Square, Near Tube Company, Old Padra Road, Vadodara-390 020, Gujarat, INDIA.

+91 0265 2357208
rupenhumad@gmail.com
http://www.perfectcolourants.com
| | |
| --- | --- |
| Hosted and Maintained By | |