Manufacturers & Suppliers of Jumbo Bags, Anti Static Jumbo Bags with Anti Static PVC Liners, Aluminum Liners, PVC Shrouds, PVC Bags, FIBC Bags

Glasnost India is one of the leading manufacturers and suppliers of Jumbo Bags, Anti Static Jumbo Bags with Anti Static PVC Liners, Aluminum Liners. These are manufactured using high grade material like PVC films, aluminum films and EVOH films ET.
Glasnost India was established in the year 2004, and has since, acquired certificates from reputed accreditation agencies for the manufacturing of Outer Jumbo Bags & PVC Liners and offer bags that are certified for UN testing with Safety Factor of 6:1.
Our factory has massive installation capacity of 20,000 Jumbo bags and PVC liners per month. Our state-of-the-art manufacturing facilities, equipped with latest sophisticated machines help us in maintaining a rapid rate of production. We endlessly endeavor to maintain high quality norms in fabrication of our jumbo bags. To infuse quality in our FIBC and PVC liners, our quality analysts test these products with technological advance tensile testing machine and welding casting machine. Our mentor Mr. Alpesh Kanu Desai, holds BE (Chem) & MBA degree and has rich industry experience of 18 years.
The machines installed at our manufacturing unit are:
• High frequency welding machines for PVC films
• Aluminum laminate welding machines
• 5 stitching machines
Our team consists of:
• Technicians
• Engineers
• Procurement agents
• Quality associates
• R & D experts
• Sales and marketing professionals
With absolute dedication, our professionals efficiently complete the assigned work within a stipulated time frame. Further, we ensure that we maintain healthy environment to keep our team members motivated all the time.
We have a spacious warehouse which is equipped with all the latest amenities in order to facilitate maximum storage of products till the time they are ready to be dispatched to the client's address. Some of the features of our warehouse are as follows:
• Very spacious for maximum storage of finished products
• centrally located
• Properly segregated
• Free of moisture and chemicals



INDUSTRIAL LINERS
We are manufacturers and suppliers of industrial liners includeing conductive liners, PVC jumbo liners, aluminum multilayered jumbo liners and PVC shrouds.
| | |
| --- | --- |
| Conductive Liners | PVC Jumbo Liners |
| A wide range of Conductive Liners to cater the demand of various industries with features like light weight, strong & tough, versatile, waterproof and reusable. Owing to these properties, the reputed conductive jumbo bags manufacturer of India used C type Conductive Liners. Further, we can customize our range in accordance to the specifications laid down by our clients. | Used for storing hazardous chemical chlorine related products. Our range of PVC Jumbo Liners is compatible with a range of chemical products, and that to in particular PVC films aluminum chloride and cynic chloride. To impart durability and quality, we conduct various quality tests and regular inspection. These are appropriate for packaging and storing of cement, food and pharmaceutical products. Further, PVC Jumbo Liners are custom made as per the specifications laid down by our customers. |
Aluminum Multilayered Jumbo Liners

PVC Shrouds

We offer Aluminum Multilayered Jumbo Liners in accordance to the industry specific norms. The water proof characteristics of jumbo liners made these highly demanding among our clients. These are used for storing hygroscopic material like chips, nylon chips, cashew, organic and bio fertilizers, nuts and chocolate powder.
We offer a wide range of PVC Shrouds to provide safety for different types of machines. These are used to ensure full proof protection of heavy engineering machine which is made using PVC films and multilayer films. PVC Shrouds act as the supporting structure during the transportation of heavy machines. PVC Shrouds are used in diverse areas like:
• Generator companies
• Pumps
• Transformers
• Heavy engineering machine
• Boilers heat exchangers
• Transformers
• Electric panels
• Light commercial vehicles
---
JUMBO BAGS AND PVC BAGS
Manufacturing and supplying of PVC dunnage bags and conductive C & D type jumbo bags. Our Jumbo Bags, Anti Static Jumbo Bags with Anti Static PVC Liners, Aluminum Liners, that caters to the requirements of the generator companies, pumps, transformers, heavy engineering machine and boilers heat exchangers. Manufactured using premium quality raw material like PVC films, aluminum films and woven fabric conductive type, our range exhibits unsurpassed quality. Further, these are acknowledged for attributes like lightweight, strong & tough, waterproof and reusable.
PVC Dunnage Bags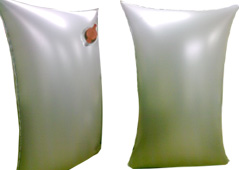 Keeping in mind the specific needs of our clients, we offer PVC Dunnage Bags with the working pressure of 40kPa (5.9psi). These are known for the features like light weight, strong & tough, versatile, waterproof, reusable and recyclable. To ensure safety during the transportation in truck or while storing in the warehouse, these bags are act as a supporting cushion between two boxes, drums and in container of 20 feet and 40 feet. Further, our range of bags caters the demands of our clients in USA and Europe.
Purpose
• PVC Dunnage Bags are inflated between cargo loads inside containers to brace and cushion them from damage during transportation.
• PVC Dunnage Bags can exert a lateral force of upto 10 tonnes depending on the bag size and void size
Construction
• Consist of a plastic air bladder fitted with a reusable air valve Housed in a tough poly woven bag.
Conductive C & D Type Jumbo Bags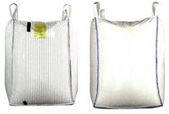 Backed by expert team of professionals, we are able to offer Conductive C & D Type Jumbo Bags for catering the demand of diverse industries. We manufacture Conductive C & D Type Jumbo Bags in our in-house production unit using quality approved threads to ensure best conductive properties. By using special looms, we wove the threads in the fabric. These looms are installed with extra attachments during the weaving process. The threads are stitched with earth tab to ensure that the bags are resistant to leakage. To infuse quality in the products, our quality experts ensure properties like tensile, elongation and insulation values are retained. Moreover, our range of Conductive C & D Type Jumbo Bags are available in conductive fabric structure with grounding point of less than 108 ohms.
---
SECTORS OF SERVICE
Our products are known for their exceptional quality and are widely used in following sectors:
• Pharmaceutical
• Specialty chemicals
• Food industries
• Bulk bag manufacturers
• Cashew exporters
• Organic fertilizers
• bio fertilizers
• Nylon chip manufacturers
• Generator companies
Our range of products are ideally suitable for the storing of hygroscopic, corrosive, hazardous products, temperature sensitive material and Corrosive compounds like, aluminum chloride, dyes, chlorine based products, titanium dioxide, niacin and all other hygroscopic chemical intermediates. Suitable for controlled temperature applications our specialty container liners are used for storing products lime wines. To meet the growing requirements of our reputed clients, we offer them with most effective solutions, and meet their individual requirements. In this regard, we offer customization service to the clients and provide them free samples as well.
We have been able to add various names to our esteemed list of clients, some of them are:
• Flexituff International
• Century Enka
• Gujrat Polyfilme
• Jakosns Generators
• Rishi FIBC
• Dishman Industries
---

Contact Us
Glasnost India

Mr. Alpesh Desai
Rajneel, Linking Road, Santacruz WestMumbai, Maharashtra - 400 054, India

+91 9821018387
| | |
| --- | --- |
| Hosted and Maintained By | |