Company Profile
New Vimko Plastics is a front runner in the manufacture of High Frequency Plastic Welding machines,
P. P. Stationery creasing, pocketing, welding machines & induction cap sealing machines. Ours is a commitment to deliver quality at economical prices with product innovations suited for the vast range of existing and new end user manufactured items. Established in 1963, our state of the art facilty to manufacture plastic welding machines is fitted with the latest equipment for manufacture of the welding equipment which confirms to all the relevant specification and technical parameter.
Our high frequency plastic welding machines are manufactured under the supervision of high level team of professionals in the management, engineering and technical cadres. Our plastic welding machines are tested on the latest testing equipments, confirming to international standards. Periodic innovations are very much part of Vimko Plastic credo.

Products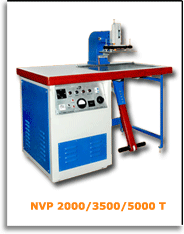 High Frequency Plastic Welding Machines
High Frequency Plastic Welding Machine Our machines are high frequency die electric heater type invaluable for all (plastic) PVC applications / blind embossing. Usages:
Stationery Items: Presentation Novelties, calendars,Office Files, Folders, Purses & Wallets, Banners & Photo Albums.
Covers: Book, Diary, Pass Book, Cheque Book, Passport, Video, Washing Machine, Car, Scooter & Umbrella, CD, VCD Covers etc.
Rainwear: Raincoats, Caps and Handles.
Sports: Quilting, Fancy Shoes, Sports Shoes, Shoe Decoration/ Embossing etc.
Inflated Toys: Animals, Balls Balloons, Dolls, Pillows, Swimming Pads, Life Jackets, Swimming Pool etc. Automobile Items: Car, Scooter, Cycle Seat Covers, Sun Visors, Car Door Trim etc. Medical: Urine bags, Blood Bags, Aneama Bags, IV Bags etc. Packaging: Blister Packs, Blister to Cards, Clear Boxes, Food Packaging, Radioactive Waste Disposal, Pouches etc.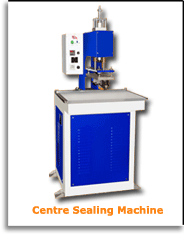 P.P.Stationery Machines
Vimko offer full range of P.P (Poly Proplyene) Stationery making machines which includes P.P creasing, window pocket, center sealing, expanding index bags, my clear bags, bottom bag sealing machines.
Usages:
Office Products & Stationery items: Computer File, Ring Binders, Clip Files, Clear Books, Document Case, Photo Album, Clear Holders, Clear Files, Enevelope Bag, Card Holder, Pen Case, Zipper Bag, Expanding Index Files/Folders, Data Binder, Artists Portofolio Case, Portable File, Action Case, Display Books, Refillable Display books, Platic Enevelopes, sheet Protector, Presentation Foilder, Magazine File, clipboard folder, Business File, Clear Flat File, Report Cover, Clamp & Name Badges, clamp Binder etc.
Induction Cap Sealing Machines VIMKO is introducing induction Cap sealing machines, the fastest and most effective way of sealing containers with foil membranes, With an inner foil seal providing a true hermetic oxygen barrier that prolongs product life and prevents leakage, induction cap sealing is widely recognized by the packaging industry as one of the most effective means of sealing containers, offering unrivalled product integrity.
We manufacture an extensive range of advanced, solid state induction induction cap sealing systems. These are suitable for all types of containers and can be easily incorporated into production lines.
Our sealing heads suit all types of screw closure from 12mm to 150mm diameter. We also offer adjustable sealing heads that can be mounted over production lines to seal containers of varying capacity and height.
We are able to offer custom built systems where required to ensure smooth and trouble-free operation. In addition to the supply of induction systems we also provide full installation services.
Applications
| | |
| --- | --- |
| | Suitable for non-metal containers of glass or plastics bottles, such as ABS, PE (HDPE, LDPE) PET, PP, PS, PVC |
| | Suitable for food, beverage, pharmaceutical or chemical industries |
Features
| | |
| --- | --- |
| | Fast and efficient. The foil seals tightly without being affected by moisture, grease or powder contamination on sealing area |
| | Easy and simple to use. All functions are clearly labeled on the display panel, which is convenient to access |
| | Modular component design minimizes maintenance requirements |
| | Latest IGBT transistor technology. |
| | Water flow switch is provided for preventing damage of head |
| | No foil/stall bottle detector |
| | Low/High power indicator |
| | Solid state elements contribute high efficiency yet low power consumption. |
| | Quick adapters on power and control wires provide easy replacement. |
| | Height of electro-magnetic coil is adjustable for range of bottle heights. |
| | Tunel type head for better sealing performanc |
| | Portable hand held induction Cap Sealing machine, Q(Dia) 10mm to 100mm available. |
| | Most economical compact light weight in plastic moulded with digital display. |