Besides the above products, we also cater to the alcoholic beverage industry(exported by our client in roll form) in which, whisky, vodka & gin are packed.
Our Clients cover the entire spectrum of business backgrounds ie, From small household & cottage industries to well known Corporate. Our customers are our best advertisement.
Segment: Edible oil
For this segment, we developed a laminate pouch which has oil based film on the inside (contact layer) and printed polyester on the outside. We successfully established this laminate in 3 side sealed pouches (for 500 ml & 1000 ml) as well as in printed roll stock (50 ml, 100 ml & 200 ml) to be used on FFS systems. The shelf life of the edible oil was enhanced and the aesthetic appeal of the print remained intact thus giving mileage to the product.
Segment: Ghee (butter oil)
For this industry we had to develop a laminate which would retain the taste and aroma of the ghee and also give a shelf life of at least 6 to 9 months. After adequate tests, we designed a triple layer standup pouch which we offered to this industry. Due to its instant success, our standup pouches and laminates have become a well established packaging norm among Pure ghee manufacturers. For small sachets ( 5 ml, 10 ml & 20 ml), we developed a printed double layer laminate in roll form to be used on FFS systems. Double layer laminates using white opaque PE film is also used by this segment.
Segment: Pickles in oil/ dry pickles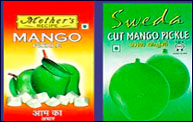 No meal in India is complete without pickles. Pickles are made in all states of India but the major portion and varieties are made in the western and southern states of India. Pickles are also perhaps the largest cottage/ home industry in India. Almost all pickles have oil as their base and the important aspect while packaging this product was shelf life, aroma retention, freshness of taste and leak free pouches. We are the pioneers in developing the laminate/ pouches for this segment and we have a very good market share in this segment.
Ready mixes & snack foods
Ready mixes are powders with various ingredients which react differently when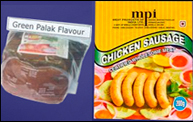 exposed to atmosphere. For this segment, we designed a Polyester and ready mix Poly laminate by which, the ingredients remain fresh for a period of 9 to 12 months. Standup pouches made from this laminate contain excellent eye catching graphics which depict the end product which can be achieved after using the ready mix. Our expertise on this laminate goes back to 20 years when we were the leading suppliers to MTR foods. We have a reasonable share of this market and our pouches have withstood the test of time.

Spouted packs - Gravy/sauces/ pastes/ Milk based sweets in sugar syrup

1. This particular segment(milk based sweets in syrup ie gulab jamuns/ russogullas) required a laminate which would prevent deterioration of products especially rancidity. The most important aspect however, was that the laminate so designed had to with stand boiling water/ steam temperatures (hot water retorting). We were successful in designing laminates which confirmed to both the above parameters and today we are one of the leaders in this category. Our pouches made from these specific laminates are sealed through contamination and a further retort process makes the pouch bacteria free while taking away all residual air from the pouch thus making it free from atmospheric contamination.
2. For pastes and gravies, we have incorporated a spout ( a reclosable aperture) on the pouch which enables the consumer to dose out the quantity required. This user friendly pouch with spout with its partly use and store facility has been a great boon to our clients and their products have been well received in the market place.

Zip lock - Whole/ ground spices and masalas
Whole and powdered spices are a regular ingredient in our meals. Many a times curries are flavored with mixed spices or spice powders. Hence it is essential that the packaging material which is designed for this sector, must give a shelf life of 9 to 12 months and retain the aroma, flavor and freshness of the spices packed. We designed a triple laminate for this segment which delivers all that is asked for in terms of product longevity. Since these powders are used a little at a time, it was essential that an added reclosable feature be provided on the pouch. We offered a zipper in side the pouch which enabled the consumer to close the pouch after extracting the quantity desired. This was very well received by our clients and their consumers.

Protein powders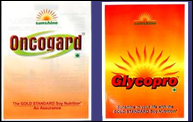 Nutrition rich pharmaceutical powders are now given to children and adults for taking care of vitamin deficiencies. They are called nutraceuticals. In order to cater to this market, it was essential that we create a laminate which had the ability to protect these powders which are hygroscopic in nature and at the same time, maintain their potency and flavor. The laminate also had to withstand 9 to 12 months of shelf life. After rigorous testing, we were able to cater to this sector and till date, we are one of the leaders in this field.

Non edibles: Picture of Large & medium spouted pouches

This segment includes chemicals liquid as well as paste and powders, lubricating oils/ grease, construction chemicals, photographic chemicals, dyes and pigments… to name a few. For lubricating oils and grease, we designed a spouted (reclosable opening) pouch with two sizes of openings to facilitate dosing of these products. These are provided in standup as well as 3 side seal pouch formats. For the other segments, Large 3 side sealed pouches ( to pack from 1 kg to 5 kgs), center sealed pouches as well as standup are being supplied on a regular basis. We have a good presence in this market.