Manufacturer of Injection Moulding & Blow Moulding and Applications - Ferromatik Milacron India Ltd.


Ferromatik Milacron India Ltd. is one of the strategic & important manufacturing bases of Milacron USA, the global leader in plastics processing machinery and manufacturing technologies. With over 120 years of manufacturing experience of Milacron, we bring world-class technology and innovation at your doorstep, helping plastic industry to stay competitive in the ever-demanding global market. Ferromatik Milacron strives to find better solutions to customer needs. Ferromatik Milacron India has pan India presence with offices in Major Cities & Industrial towns to serve the Plastic Industry. We also export our machines to more than 35 countries in SAARC, Middle East & Africa.
Our machines cater to a wide range of Injection Moulding & Blow Moulding end applications like House Ware, Automotive, Thin Wall Container, Electronics & Electrical, Writing Instrument, Industrial Product, Packaging, Consumer Goods, Caps & Closures, PET Preform, Furniture, Construction Fittings... and many more
Vision

Milacron will be a global leader in industrial process, offering products and services so clearly outstanding in terms of innovation, quality, delivery and value that we are consistently the suppliers of choice

We will be driven to FIND A BETTER WAY for our customers and provide growth opportunities for employees, suppliers and shareholders, while adhering to the business philosophy of Total Quality Leadership (TQL) and our core values
Mission

To establish Ferromatik Milacron as a world class business organization comparable to the best in the plastic technology business

To participate in global designing, manufacturing and sales activities so as to exceed best industry standard

Features:

Fast & Precise Moulding

Energy Efficient Production

Clean & Quiet Operation

Environment Friendly
All Axes Movements by Servo Motors results in…

Precise Moulding of Complex Articles

Energy Saving

Parallel Movements of all Axes – Shorter Cycle Time

Quiet & Clean Operation
Applications
Medical, Electrical & Electronics, Clean Room Application, Writing Instruments, Automotive, Irrigation Components, Packaging

---
Hydraulic Machines ranging from 80 to 910 Ton

Features

Generous Specification

Centrally Distributed Force across Platen

High Productivity

User Friendly Control
Applications
Furniture, Consumer Goods, House ware, Rigid Packaging, Automotive, Industrial Products
---
New generation high speed Toggle Machines from 30 to 500 Ton

Features

Rugged & Reliable Design

Precise & Consistent Moulding

Generous Specification

Energy Efficient Production

Wide Combination of Injection Unit with Clamp makes Magna T a Versatile System
Applications
Packaging Industry, Automotive Industry, Medical Industry, Writing Instrument, Electrical & Electronics, Industrial Components
---
Two Platen Machines ranging from 500 to 3000 Ton

Features

Large Tie bar Spacing & Daylight

Compact Two Platen Clamping Mechanism

Minimized Footprint

Energy Efficient Production

Truly Closed Loop System results in Precise Component Moulding
Applications
Automotive, Consumer Goods, Rigid Packaging – Pallet, Industrial Products
---
Features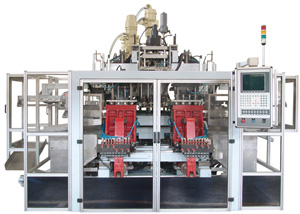 Higher Productivity – Reduced Containers Cost

Consistent Container Quality

Reduced Setup & Startup Time

High up Time

Reduced Rejection Rate

Reduced Energy Consumption
Applications
Personal Care, Food Products, Home Care, Lubricants, Cosmetics, Pesticides, Edible Oil, Pharmaceuticals
Machine can be configured for...

View Strip Application

2 Layers & 3 Layer Applications

Angular Blowing Application
---