Om Polymers, India is a leading manufacturer of various specialty films, rolls and pouches including Polyolefin Shrink Rolls, LDPE Shrink Rolls, Polyolefin Shrink Pouches, Air Bubble Films and Rolls, Stretch Films in machines and the like. The proprietor, Mr. Rajiv. U. Panchal, is a well qualified Mechanical and Production Engineer from University of Mumbai having vast experience of packaging industry since last 15 years.
Om Polymer's office and factory is situated in the Mumbai and is well accessible by road and provides for easy transportation. Om Polymers has its own delivery vehicles so as to minimize delivery time and the make the delivery process efficient.
Om Polymers' commitments to quality and delivery schedules are unbeatable. We are supplying various types of films and bags to reputed corporate groups in India.
Om Polymers assures you the best minimum rates and shall be pleased to accept your order on most favourable terms and conditions.


* Polyolefin shrink rolls
* Polyolefin shrink pouches
* LDPE shrink rolls
* Stretch films in machine and manual grade
* Air bubble film rolls and pouches
* L-sealer, Shrink Tunnel, Heat Chamber, Stretching Machine, etc.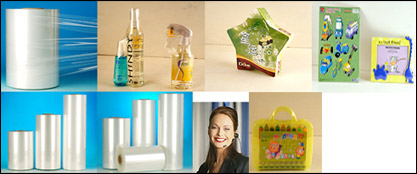 Polyolefin Shrink Film
With excellent clarity, Polyolefin Shrink Film is a strong, biaxially oriented, heat shrinkable polyolefin film. Shrinkage is balanced and stable during packaging. The Polyolefin Shrink Film is soft, flexible and does not embrittle in low temperature after shrinking. It ensures your product to be better protected and does not give off any harmful gases. The Polyolefin Shrink Film is compatible with most shrink-wrap equipments, including semi-automatic and automatic systems and is an economical shrink film for wide application.

Why Polyolefin Shrink Film?
PVC is the first type of material used for manufacturing of shrink film. Problems of using PVC shrink film are:
Handling problem as PVC film is not stable and starts to shrink at 60°C.
Discharging smell and smoke during the sealing process of the PVC shrink film which can be very harmful to both human and the environment.
PVC Shrink Film gives low shrinkage, dog-ear is common in the process.
PVC Shrink Film is is brittle, short shelf life.
PVC Shrink Film is less suitable for fully automated operation.
PVC Shrink Film has poor clarity and gloss.
The use of polyolefin shrink film will eliminate all the above problems.
Polyolefin Shrink film American Standard Sizes

Thickness

0.012mm

0.015mm

0.019mm

0.021mm

Standard Length:
Centrefold

Single Sheet


1665m

3330m


1332m

2664m


1067m

2134m


893m

1786m

Width

Make to order:
• from 6 inches to 36 inches for centrefold film.
• from 6 inches to 68 inches for single sheet film.
Applications of Polyolefin Shrink Films
- Toys, games, sports goods, books,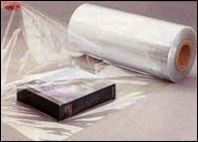 gift items, meat, poultry, bakery items, medical products, furniture industry, stationary (computer or preprinted).
Om Polymers manufactures Polyolefin Shrink-Wrap and Polyolefin Shrink Film in various widths. Polyolefin Shrink Films manufactured by Om Polymers are available in rolls with center fold and different widths.
Bags/Pouches of Polyolefin Shrink film are also available with Om Polymers as per order.
The m ost popular thickness is 15 microns; therefore Om Polymers keeps adequate stock of this particular thickness. Nevertheless, Polyolefin Shrink Films of higher thickness can be made available on request with a lead time varying from 3 days to 2 weeks.
| | |
| --- | --- |
| Film Density (g/cc) | 0.9242 |
| Haze ( %) | 2.8 |
| Tensile US <MD> in (Kg /cms²) | 1257 |
| Tensile US <TD> in (Kg /cms²) | 1230 |
| E-Modulus <MD> in (Kg/cms²) | 1093 |
| E-Modulus <TD> in (Kg/cms²) | 1569 |
| Shrinkage @ 90º C MD/ TD in % | 10 / 15 |
| Shrinkage @120ºC MD/TD in % | 50 / 55 |
| Shrinkage @130ºC MD/TD in % | 60 / 65 |
IMPORTANT - POLYOLEFIN SHRINK FILM STORAGE INFORMATION
Always store Polyolefin Shrink Film in temperatures not exceeding 32º C (90º F). Doing so will enable the Polyolefin Shrink Film to be stored up to about 5 years from the date of manufacture. Om Polymers takes due care for storage of Polyolefin Shrink Films to maximize the efficiency and durability of shrink films.
Polyolefin Shrink Bags
Polyolefin Shrink Bag is the latest concept in shrink packaging. Shrink bags are very convenient in application where bunch of odd shaped units are to be packed, like 6 fridge bottles, jars and so on. Four persons sit across a table, with a packet of bags and items to be packed. Giving them a normal sealer, the conveyer belt of tunnel is extended so as to bring them in front of packing persons. One hot tunnel between the persons is adequate. All 4 persons pack item bunch in a Polyolefin Shrink Bag and seal it with a sealer placing them on a moving conveyer in front of them, which takes packets through hot tunnel giving tightly shrinked packets.

ADVANTAGES OF Polyolefin Shrink Bags
• The production method is 4 times faster than manual method even faster than automatic machine.
• Polyolefin Shrink Bags production saves cost of 4 L sealer and hot tunnel.
• Cost of floor space is saved.
• The production method for Polyolefin Shrink Bags saves wastage.
• Electricity cost is saved in the process of production of shrink bags.
• Labour cost is saved.
ASK FOR BEST PRICE FOR BAG
SO WHY WAIT, START USING POLYOLEFIN SHRINK BAGS TODAY. ASK FOR FREE SAMPLES NOW.
SCHEMATIC DIAGRAM OF MODIFIED PACKING LINE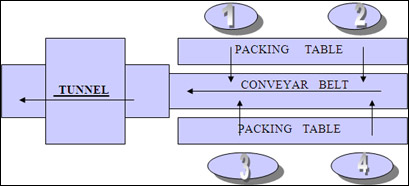 LDPE Shrink Rolls
Om Polymers derives pleasure in introducing ourselves as a one of the Leading manufacturer of LDPE Shrink Film Rolls, Pouches and the like. The LDPE Shrink Rolls have good transparency which makes your product attractive and appealing. The softness and strength of LDPE Shrink Film Rolls are useful for heavy / bulky items to shrinkpack properly. Besides, the LDPE Shrink Film Rolls are very useful for fully automatic Web lining machines, used in packing flavoured milk bottles, beer and juice cans, news paper, match box bundles, ceramic tiles, paper rolls and rim. Om polymers can offer a wide selection to choose from 6" to 50" in sizes and thickness from 25 to 60 microns, to best suit your requirements.
SHRINK MACHINES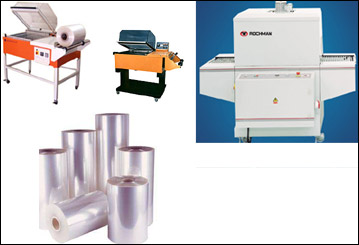 Stretch Wrap/Pallet Wrap Film : - Pallet wrapping, unitizing of cartons, scratch protection of metals and materials like machinery plants and furniture, packing of cable wire and hose pipe in rounded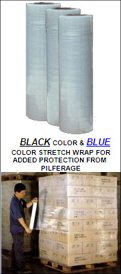 form, weather proofing cartons, and so on.

Stretch Wrap , also known as pallet wrap is a simple process of wrapping boxes or items that have been accumulated on a pallet and then pulled tightly together by the force of the film wrapped around the boxes or items.

Om Polymers' lines of stretch films are made for performance and value and distributes a full line of quality films in a variety of sizes for your specific needs.

Hand grade and Machine Grades.
Stretch films usually yields up to 200% stretch capabilities in Hand grade and 300% in machine grade. Stretch wrap comes in a variety of sizes, from 50 mm to 750mm.

"Give us a call and we will discuss your Stretch Wrap needs."
AIR BUBBLE POLYETHYLENE SHEET FOR PACKAGING
Applications / Uses - Varied from packaging of fragile items to insulated cover for swimming pools.
List is only limited by ones imagination. Known to have been used for small babies, as it allows free circulation of air under them.

AIR BUBBLE SHEET
| | |
| --- | --- |
| Bubble Diameter | 10mm |
| Bubble Density | 8500/ sq. mtr min |
| Water Absorption | 0.02% after 24hrs. |
| Chemical Resistance | Excellent |
| Service Temp. | 8° C to 60° C |
The Air Bubble Sheet is available in 1mtrs & 1.5mtrs width, standard length of the roll is 100 mtr

s & bubble diameter is 10mm. The Air Bubble Sheet can be available in dimensions between the above mentioned ones for bulk requirement. Material is available in various thicknesses, from 50gsm to 160gsm.
All sizes of bubble cut pcs /pouches / bags / tubes as per specification & requirement easily available with Om Polymers.
| | | | |
| --- | --- | --- | --- |
| Gauge* | GSM | Weight of 1mtr Roll | Weight of 1.5mtr Roll |
| 200 | 50 | 5.000Kgs | 7.5000Kgs |
| 225 | 55 | 5.500Kgs | 8.250Kgs |
| 250 | 60 | 6.000Kgs | 9.000Kgs |
| 275 | 65 | 6.500Kgs | 9.750Kgs |
| 300 | 70 | 7.000Kgs | 10.500Kgs |
| 325 | 75 | 7.500Kgs | 11.250Kgs |
| 350 | 80 | 8.000Kgs | 12.000Kgs |
| 400 | 90 | 9.000Kgs | 13.500Kgs |
| 435 | 100 | 10.000Kgs | 15.000Kgs |
| 500 | 115 | 11.500Kgs | 17.250Kgs |
| 560 | 130 | 13.000Kgs | 19.500Kgs |
| 600 | 140 | 14.000Kgs | 21.000Kgs |
| 650 | 150 | 15.000Kgs | 22.500Kgs |
| 700 | 160 | 16.000Kgs | 24.000Kgs |
AIR BUBBLE CUT PCS / POUCHES / BAGS / TUBES / DUST COVERS
Air Bubble pouches, Air Bubble bags, and Air bubble tubes (for packing of any type of rod) are available with Om Polymers on order. No Order quantity is too small or too big for Om Polymers. In case of very small order there may be some extra charge to cover the additional costs of processing.