Company Profile
PROCON Technologies is leading supplier of process control equipment including temperature controllers, thyristor drives, PLC controllers. process controllers, panel display meters ultrasonic flow meters, weighing and dosing systems, gravimetric feeding systmens since the year 1990. The basic objectives we have set for ourselves are.
To market and manufacture products of a very high degree of quality by effectively conveying & demonstrating the technical strengths of our process control products.
To emerge as a Technically Qualified Marketing Organization.
To develop into a Customer Oriented Organization, with a high accent on `Service'.
Today, within a span of 10 years, we have emerged as one of the leading Marketing Organizations in India. We service our clients through a team of 30 committed and technically qualified professionals. Headquartered at Ahmedabad, we have representatives at all major cities. One key advantage of PROCON as a distributor is what we do beyond being a distributor. We add value to the products. Our manufacturing partners, including Fuji, a Fortune 500 company, know the extent of our capabilities. They trust our engineers and understand the depth of our commitment to customers. They share in that commitment, and our customers enjoy the additional value from the synergy the partnering brings.
Products
Temperature Controllers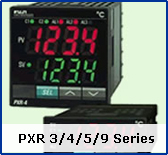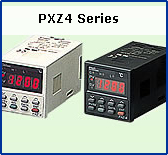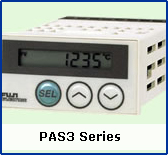 PXR 3/4/5/9 Series: Fuji Electric's new PXR series temeperature controllers are Compact, Reliable & Low Cost and features a Waterproof front structure, Short Depth & Large LED display size. Apart from the standard Auto-tuning & Fuzzy Control, the PXR also carries a Self-tuning mode, whereby the controller learns the process behavior and optimizes the control action. Some of the Low cost Optional features include: Re-transmission Output, 16-step Ramp/Soak Function, RS-485 (MODBUS) communication, Digital Input, Timer Function, Heating & Cooling control, Heater burnout Alarm, Programmable process Alarms (upto 3 points) etc. The PXR series is available in 1/32 DIN, 1/16 DIN, 1/8 DIN & ¼ DIN sizes.
PXZ4 Series: Fuji Electric's PXZ series is one of the oldest & most popular temperature controllers available in the market today, featuring sheer reliability in tough operating conditions. The PXZ controllers employ Fuji's patented Fuzzy logic algorithm with PID Auto-tune to achieve precise control of the process parameters.
PAS3 Series: Fuji Electric's PAS3 is an Alarm Setter with ON/OFF contact outputs, most suited for detecting overheat in Machines & Equipments. The highly compact PAS3 can accept thermocouple and thermistor inputs and can give out a maximum of 2 Alarm outputs. Waterproof structure of the front facia makes the PAS3 an ideal choice for machine mounting applications.
Process Controllers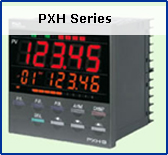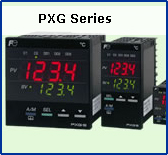 PXH Series: Fuji Electric's new PXH9 is a 1/4 DIN, high-performance digital process controller that assures high-speed and high-accuracy control. With its abundant and flexible input/output points and powerful math function, it can be used for a wide range of applications as not only a temperature controller but also a process controller for pressure, flow rate, and more.
PXG Series: Fuji Electric's PXG Temperature / Process Controller is the newest addition to the Fuji Controller Family. Launched in September 2005, the PXG includes high-end features suited for both OEM & Process applications. A 200 ms sampling time makes the PXG the fastest controller in its class. Some of the standard features of the PXG are, Universal Input, Auto/Manual Mode, Smart Ramp/Soak Function with Guaranteed Soak, Choice of 5 kinds of Control Output, Programmable Alarms, Upto 7 PID Palettes, Password Function, Alarm Flicker Function, Extra Bright & Extra Large LED Display, Water-proof Structure, Soft Start Function, PID + Auto-tuning + Self-tuning and many more.
Digital Panel Meters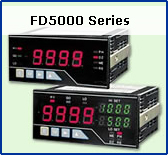 FD5000 Series: One Universal Panel Meter for a Variety of Input Needs Fuji Electric's new FD5000 is a highly modular 1/8 DIN panel meter with up to 18 different field-replaceable input boards. No need to stock a variety of panel meters — simply install the appropriate input board for each process.
The FD5000 accepts inputs from temperature probes, pressure transducers, load cells, strain gauges, potentiometers, pulse inputs, large voltage and current signals. This makes it ideal for demanding process applications such as Food, Textiles, and Automotive.
Ultrasonic Flow Meters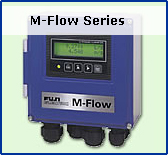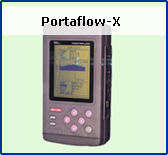 M-Flow Series: The Time Delta M-Flow is a state-of-the-art, economical alternative to magnetic, vortex and differential pressure transmitters. Advanced micro-processing detection methods combine with a versatile design to provide accurate and obstruction-less flow measurement of any clean water application. The Time Delta M-Flow features high reliability and accuracy (up to 0.5%), and long-term maintenance-free operation.
Time Delta Series: The Time Delta S is a fixed Ultrasonic Flowmeter based on the transit time measurement method for measuring flow rates of relatively clean homogeneous liquids utilizing clamp-on sensors. Thanks to microprocessor-based electronics, the flow meter can be easily configured from the front keyboard to particular applications. The Time Delta S is ideally suited for liquid flow measurement for pipe diameters from 0.50 to 235 inches
Portaflow-X: The Portaflow-X from Fuji Electric is a portable Ultrasonic Flowmeter utilizing the transit time difference principle for measuring flow rates through pipes from the outside. This liquid flow meter is compact and lightweight, and incorporates the latest breakthroughs in digital signal processing and electronics realizing high performance and easy operation. The most attractive advantage of these portable flow meters is the non-invasive setup, enabling multiple flow measurements of different running systems, and offering a significant cost advantage over time. Some of the most common applications include: backup for an already installed flow meter system, water supply and sewage treatment, flow measurement systems, boilerwater/feedwater supplies, cooling water, cooling oil, and deionized water for semiconductor manufacturing, among others.
Paperless Recorder
PHR Series: The compact PHR Paperless Recorder displays up to 18 channels of data on a brilliant 5.7" TFT color LCD. A wide variety of display modes allow users to view data as trends (horizontally or vertically), bar graphs, analog meters, digital/numeric output, totalized output, event summaries, and more. Switch between display modes quickly and easily with the 8-key front panel. The adjustable-time screen-saver function extends the life of the display and reduces power consumption.
Thyristor
Single And Three Phase Thyristor Units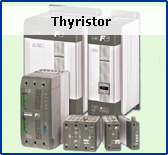 | | |
| --- | --- |
| | Intelligent Thyristor Units |
| | EMC and CE Marked |
| | EMC and CE Marked |
| | EMC and CE Marked |
| | CUL Approved |
| | Diagnostic |
Weighing Dosing
ColorSave 1000: Highly advanced and cost-effective single component masterbatch/additive gravimetric feeder for injection molding machines.
| | |
| --- | --- |
| | Up to 50% savings in masterbatch/additives consumption when compared to volumetric feeder |
| | Up to 35% savings in masterbatch/additives consumption when compared to remote batch blender |
| | Up to 15% savings masterbatch/additives consumption when compared to batch blender on machine throat |


ColorSave 1000 XT: Highly advanced and cost-effective single component masterbatch/additive gravimetric feeder for injection molding machines
| | |
| --- | --- |
| | Up to 50% savings in masterbatch/additives consumption when compared to volumetric feeder |
| | Up to 35% savings in masterbatch/additives consumption when compared to remote batch blender |
| | Up to 15% savings masterbatch/additives consumption when compared to batch blender on machine throat |


ColorSave 1000 XT: Highly advanced and cost-effective single component gravimetric continuous masterbatch/additive feeder for extrusion and blow-molding machines with virgin material free fall weighing hopper
| | |
| --- | --- |
| | Up to 50% savings in masterbatch/additives consumption when compared to volumetric feeder |
| | Up to 35% savings in masterbatch/additives consumption when compared to remote batch blender |
| | Up to 15% savings masterbatch/additives consumption when compared to batch blender on machine throat |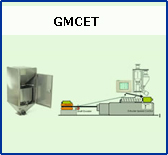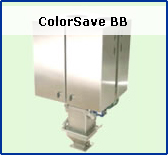 GMCET - Gravimetric Metering and Control of Extruder's Throughput: The GMCET provides a universal solution for measuring and controlling of extruder's total throughput (kg/h, gr/m)
| | |
| --- | --- |
| | Weighing hopper with fast filling valve |
| | Sophisticated gravimetric controller and software, based on the unique ColorSave 1000 XT gravimetric system |
ColorSave BB - Gravimetric Batch-Blender: Technical Data
| | |
| --- | --- |
| | Low size and reduced weight relative to high capacities. |
| | High dosing accuracy – 0.05% of batch weight. |
| | Capable of blending up to 4 ingredients, at a rate of up to 200 kg/hr. |
| | Horizontal mixer enables complete emptying from batch to batch. |