Plastics is the most used substance in the current day and time. At the same time littering leads to wide spread abuse of this wonderful material. PLASTICS has solved and changed the many ways we live, eat, drink, survive, remain healthy, get cured, travel, transport, build and sustain our lives. However few forms of PLASTICS are perceived as threats to the eco-system. Not because they cause harm but because they are misused irresponsibly. Packaging and PLASTIC waste generated from it has been the most topic discussed on GOOGLE after Donald Trump's Vindications. However the joke is on us, if we as makers of plastic are not vindictive enough to stand and talk proudly about how we can contribute to sustainability using the very product that provides us our livelihood. Hence with collective wisdom, the environment and plastic image committee came up with a thought – Do we speak words that SHOUT or Create ACTIONS that are LOUD.
Our Inspiration:
Rather than talking too many words we stuck to four words :"AAO KuCH ALAG KARE". Our submission was simple, if you segregate waste, like you separate your food, your clothes, your priorities and most importantly all activities of your life. Then the simple method of segregation can change the world around your not only for yourself, but for people who don't have better means to live and most importantly, unknowingly every person by using social conscious can benefit another human being and in return protect our environment.
So we took up the challenge to find out which were the most talked about "so called pollutants". To our surprise "PET Waste was one of the top 5 pollutants" as certified by various bodies and governments. We also found out that PET waste when recycled correctly can produce multiple plastic products of public consumption, one of them being Fabric.
You would be Pleased to Know the facts:
Nineteen PET bottles produce enough fiber for one XL T-shirt.
Twenty five PET bottles produce enough for one sweater.
1050 milk jugs can produce enough fiberfill for a sleeping bag.
Nineteen bottles make enough fiber to make one square foot of carpet.
Fourteen bottles yield enough fiberfill for a ski jacket.
It takes 114 PET bottles to make enough fiberfill for a sleeping bag.
21 percent of recycled PET is used to make new plastic containers.
50 percent of all polyester carpet made in the Unites States is made from recycled PET
54 percent of recycled PET used to manufacture fiber for carpet and clothing
100 percent of PET is recyclable.
So while we first toyed with the idea of collecting waste during the expo and converting the same to T-shirts and educating our own plastic fraternity brethren. Our team hit up on the idea that talking to the very people who make PLASTICS Is not the answer, we wanted to be heard and understood by the outside world who think otherwise about PLASTICS.
So we decide that we will make this loud and clear and use the opportunity to Do something BIG with something very SMALL.
BIRTH OF THE WORLD" S LARGEST T-SHIRT made from 100 % recycled Plastics. :
India makes 900 kilo tonnes of PET waste. So if most of this goes into landfills and oceans due to ignorance and mis information, how could we create a positive change.
Our thoughts were simple. Lets make the world's Largest T-shirt from 100 % recycled PLASTICS. Show it to the world that India can MAKE a positive impact, especially INDIAN PLASTICS And The APEX body of Indian PLASTICS- PLASTINDIA FOUNDATION.
Take this message to the world through a unique record. Document it. And then convert this Large Production into small pieces of actual fabric Tshirt and distribute it to under priviledged children through various NGO foundations, thus laying a foot print and positive impression of what is the power of PLASTICS if used and disposed correctly. We want to end this first salvo of inspired living with a humble appeal to every civil society member. Whenver you drink from a PET bottle dispose it correctly because when you do you are contributing your part to cloth some fellow countryman in this country.
The Journey:
We managed to garner partners from the industry and most importantly found support from each founder member and managing committee member who believed in our thought and went ahead with our vision. Today we are less than 15 days from our first initiative to make our first impression on positive use of PLASTICS. and yesterday we visited the factory with members from the Managing committee and we all have come back with pride, if we have the right attitude and the correct belief, we can bring change. Our Tshirt will measure 70 m in width and 97.92m in length and when cut up post show will produce 10000 Small tshirts for distribution plus a few souvenirs for all our exhibitors and partners who have supported this cause.
Outcome:
By getting this record certified we want to attract media and public attention, and leave a simple message, Just 19 bottles a month into segregated wastebincan clothe a countryman who does not have access to clothing.
Our Motto : AAO KUCH ALAG KARE : is to inspire people to think about plastics differently and segregate waste.

Next steps:
We want to use the platform generated by this T-shirtInitiative to talk further to our countrymen with a scalable initiative which will build a sustainable role model that will mitigate the Hatred for PLASTICS.
Step 1: BELIEVE IN SEGREGATION AND EDUCATION ON SEGREGATION AS THE ONLY SOLUTION .
If we take urban Mumbai and only North Mumbai, As per BMC statistics there are over 2500 multi-storey apartment with more than 20 floors, spread over 15 geographical kms stretching from Andheri to Borivali.
If each floor has an average of 3 flats and each building has 20 floors, we are looking at 60 residents x 2500 building. IF each flat contributes 20 bottles a month ( a conservative average), we are looking at:
60 x 2500 x 20 bottles : 30,00,000 bottles in one month / 19 (for one T-shirt) = 1,57,894 garments.
OR
This challenge is the second step. To create the largest initiative by man to collect waste and convert it into clothing for sustainable living for mankind. Another world record.
To achieve this, we need to provide each society with a bin to collect all plastic waste,
Have our recycle partner collect it once every fortnight/ month
Convert the same to fabric and organise a public event, where we invite the very citizens from the area to witness how their social contribution has clothed people who don't have access to proper clothing with their un-intentional effort
Get media to make it a story, take it viral, take it to the government, make it an example and use NGOS and support them to implement nationally
Step 2: MAKE SEGREGATION A REWARDING HABIT
Once these very complexes are accustomed to the drive, we could introduce a loyalty scheme. Collect all plastic waste in all forms, use recycle companies as partners to collect waste by the Kg. Create tangible value for the contributing society by offering them plastic money in exchange for waste. This plastic money can be exchanged for recycled products – benches/ post boxes/ garden furniture/ Lamposts/ security cabins/ mobile toilets for drivers/ port-a- cabins/ plastic toys/ seating for society office.
Conduct camps and drives on composting, help them build composting facilities to complete manage waste at source, and become partners to take away the unwanted waste an converting it to a rewarding experience.
Our belief is to keep this effort simple and sustainable, we would like this model to eventually become revenue neutral with partner plastic producers adopting each location area and making sure that they generate revenue and compensate the contributors from a part of the profits they generate from the waste collected.
This white paper can only be sustained if there is a general consensus and belief in the idea that the way forward is educate the very user that is responsible for making PLASTICS THE USABLE OR THE MOST ABUSABLE.
I rest my thoughts and request our team to help this idea germinate into a tree of reality.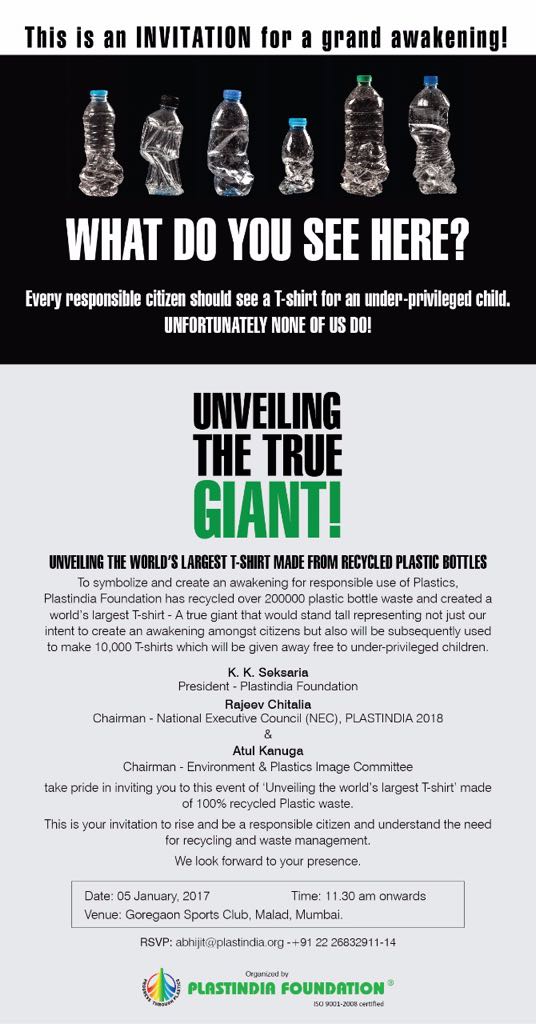 PlastIndia Foundation