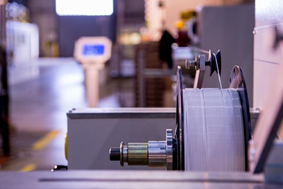 SABIC introduced at Formnext 2017 a unique new fused deposition modeling filament that delivers markedly improved impact resistance compared to currently available filaments. The new product, suitable for potential aerospace, consumer and automotive applications, meets growing global demand for higher performing additive manufacturing consumables and is the first in a series of differentiated materials SABIC plans to launch in the coming year. With the addition of this new high-impact filament, SABIC is demonstrating its ability to deliver on the promise of bringing differentiated materials to the market to help position additive manufacturing as a viable full-scale production process.
The new filament will further expand SABIC's robust portfolio of additive manufacturing materials, which includes six filaments designed for use with Stratasys® Fortus® printers, and a family of reinforced compounds for large format additive manufacturing, both of which were introduced earlier this year. These technologies are based on the company's high-performance polycarbonate (PC), polyetherimide (PEI), acrylonitrile-butadiene-styrene (ABS) and polyphenylene ether (PPE) engineering resins, several of which have been used for additive manufacturing for many years.
SABIC exhibited parts at Formnext 2017 that were printed at its Additive Manufacturing Centers of Excellence in Pittsfield, Massachusetts and Bergen op Zoom, the Netherlands using the new high-impact strength filament and the company's other additive manufacturing products.