High performance and specialty film sector is projected to grow at 4.5% pa through 2012 in USA. Photovoltaic film, modified atmosphere food packaging and biodegradable film sectors are expected to have higher growth aspects. The 3 key sectors that are expected to have good growth prospects are films for barrier, construction and packaging of chemicals. Barrier film will remain largest segment with over 50% share of the specialty film market. Specialty film for pharmaceutical packaging will also increase its share by 2012. Distribution of specialty film as per Freedonia in 2012 will be:

| | |
| --- | --- |
| Film type | Market Share (%) |
| Barrier | 52 |
| Safety & security | 8 |
| Decorative | 15 |
| Micro porous | 12 |
| Other | 13 |
| Total | 100 |
Improvements in metallization technologies will make metalized films a cost-effective replacement for film/foil and film/paper laminates in food packaging applications. Safety and security films, and light control films are two closely related groups of specialty film, as both are applied to glass substrates and are used in motor vehicles and buildings. Polyvinyl butyral interlayer film in laminated vehicle glass is highly mature and offers minimal opportunities for growth. Light control film has better prospects for growth.
The most rapid growth in specialty film will take place in biodegradable and water soluble films. Both of them may see double digit growth from a small base in 2007. Demand for biodegradable film, used to produce compostable kitchen and lawn bags, will benefit from environmental concerns and increased commercialization of bio-based polymers. Water soluble film demand will receive a boost from the introduction of medicinal and blister packaging applications, particularly fluoropolymer and polyamide film in controlling the transmission of light through windows.
Freedonia estimates that demand for specialty films is forecast to advance 4.7% pa to US$7.6 bln in 2012. Gains will be driven by the increasing need for high-performance plastic films that offer such advantages as barrier properties, mechanical strength and chemical resistance in packaging and construction applications. Additionally, the penetration of specialty films into new, high-growth market areas such as photovoltaic modules and biodegradable bags will also bolster demand. The rapid adoption of modified atmosphere packaging and case-ready packaging will fuel further gains, as will improved processing methods in film coating and metallization. However, demand growth will be inhibited by market maturity or weak demand for end-use products in a number of specialty film applications, such as PVC decorative films, microporous films for personal care products and interlayer films for automotive windows. Barrier films will remain the largest segment of the specialty films industry, accounting for over half of total demand in 2012. Above-average growth will be driven by the rapid rise of case-ready technology in meat packaging, which requires barrier films to maintain an optimum atmosphere inside the package. Packaging will remain the dominant outlet for specialty films through 2012, accounting for over half of demand. Gains will result from trends toward more specialized, functional packaging systems in meat, produce and pharmaceutical packaging applications. Electronics markets for specialty films will also see above-average advances, driven by opportunities in emerging markets such as photovoltaic modules and fuel cells.
The global market for specialty films is projected to reach US$22.18 bln in 2009. Representing a healthy CAGR of 6.1%, the market is forecast to grow by an overall 34.2% to reach US$29.77 bln by 2014, according to Pira International. Specialty films are films that have a special function or feature, and are often referred to as 'high-performance polymers'. They are essentially newer, relatively small-volume, niche polymers and are more expensive than commodity films. Six major resin classes generally make up the specialty films category, i.e. polyesters, nylons, polyolefin-based films such as EVOH and PVdC, polycarbonates, fluoropolymers and polyamides. The key trends expected to drive the specialty films industry in the 2009-14 period include the technologies capable of making polymers more sustainable, compostable, recyclable and re-usable over longer time spans, as also polymers that can show increased yields while cutting down on material use and costs. Increasing demand for fresh, longer-lasting food products is also a prime catalyst for booming sales for flexible packaging, which represents the most dynamic sector in the specialty films industry. Satisfying customers through competitive pricing, ability to meet stringent client specifications, and ease of processing on faster machines is now perhaps the critical industry differentiator. To achieve this optimum balance, specialty film producers in developed countries have been increasingly shifting their plant and research and developments sites to favourable offshore locations like eastern Europe, India, northern Mexico, Indonesia and Vietnam in 2008 and 2009. The barrier films market, which constitutes half of all demand for specialty films in 2009, is by far the largest sector in the industry. The report states that the global sales of barrier films are expected to be close to US$12 bln in 2009, and this is forecast to increase to US$14.6 bln by 2014. The annual growth rates for the three categories of film covered in the report (oxygen and gas-barrier films; moisture-barrier films; and other barrier films) are below the market average, but this is the norm for such a mature segment. However, the magnitude of sales in the sector is attracting substantial money for research and development activities which, in turn, is bringing in a host of new products into the market. The four key areas of innovation in the specialty films industry in 2009 have been bio-plastic films, films for organic light emitting diodes (OLEDs) and solar cells, conductive films and films for the photovoltaic module market. The biodegradable, water-soluble and food contact versions of specialty films have been performing well despite the current economic climate, with their projected sales growth expected to be 13%, 9.8%and 8.3% respectively in the forecast 2009-14 period. The study predicts that in material terms, bio-based polymers will witness annual growth rates of 13% in the 2009-14 period, more than double the normal market average. With regard to end-use segments, photovoltaic modules, bags, and safety and security films will perform impressively during this forecast period. Region-wise, South America, Eastern Europe and Asia (with the exception of Japan) will perform well above the global average, while the mature North American and western European markets are expected to perform below the global average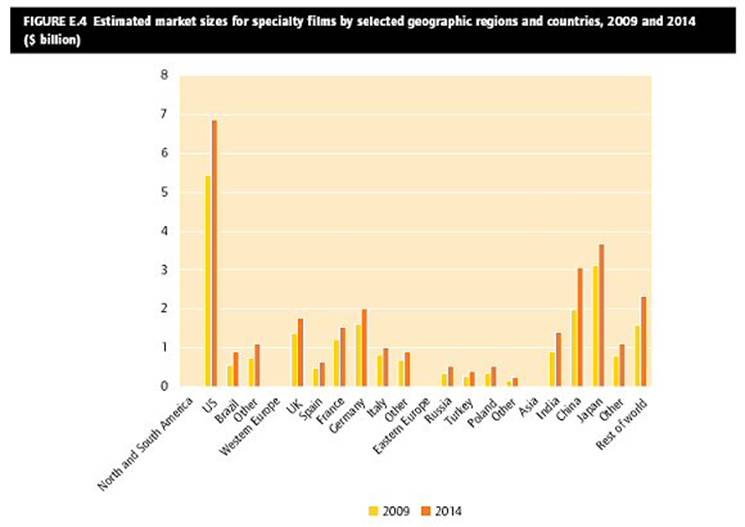 Despite the shadow of economic recession, the estimated growth rates in developed nations like Japan and the UK will be fairly satisfactory, with CAGRs of 3.3% in Japan and 5.5% in the UK. Demand for newer generations of specialty films like the bio-based and photovoltaic module sectors, is driving most of this sales growth. Emerging countries like the BRIC nations (Brazil, Russia, India and China) will have the highest growth rates, with CAGRs ranging from 9.1% in Russia to 10.3% in Brazil.