The global market for functional additives and barrier coatings for plastic packaging is set to grow by 4.3% in the period from 2009 to 2014, according to a study by Pira International. In 2014, the sector will be worth US$752 mln compared to US$609 mln in 2009. The largest users of functional additives and barrier coatings for plastic packaging are electronics, electrical and the snack-foods market. From 2009 to 2014, Pira predicts barrier coatings will grow 4.6% annually on average, while functional additives are expected to expand at a slightly more modest 3.9%. The resulting 4.3% CAGR of the combined additives and coatings market is much higher than the predicted growth of the packaging market. The market segments with the best development prospects are epoxy, SiOx, carbon and PVOH coatings, and anti-fog and antimicrobial additives. In the barrier coatings area, PVdC coatings had 38.2% of all market value in 2009, the largest share, followed by metallised coatings (31.1%) and EVOH (18.1%).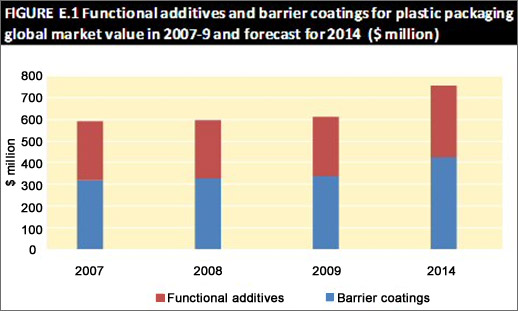 Source: Pira International Ltd.\
Pira identifies a range of factors expected to drive the predicted growth in the additives and coatings market including:
• Global recession impacting the structure of end-user demand- sales of basic products such as essential food and beverages have remained largely unchanged, but a number of products requiring more sophisticated packaging, such as cosmetics, snack foods, confectionery and ready meals, have suffered a drop in sales. This has had a negative impact on the demand for functional additives and barrier coatings.
• Growing demand for barrier-coated PET bottles, which will be increasingly generated by markets such as the beer-brewing industry.
• The activity of large retail chains in developing markets, their growing footprint in these regions is expected to stimulate the sales of packaged food.
• Mounting pressure on brand owners and retailers to reduce the environmental impact of their packaging. Reducing packaging weight by switching to thinner materials is one likely response, which will in turn drive demand for functional additives. The use of barrier coatings is also expected to increase thanks to its relative ease of recycling as opposed to older technologies such as multilayer bottles.
• Changing lifestyles of consumers- Busier lifestyles, longer working hours and the increasing number of single-person and single-parent households will drive demand for smaller packs, ready meals and frozen food. In turn this will spur demand for barrier coatings and functional additives.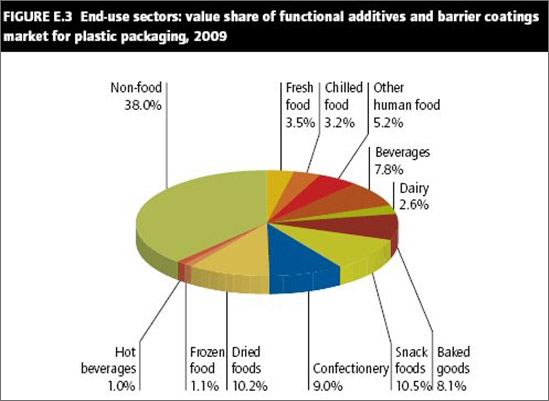 Source: Pira International Ltd.
According to Pira, the largest current user of functional additives and barrier coatings for plastic packaging is the non-food market - mainly electrical and electronics. In second place is snack foods. Both industries are poised to remain in the lead in the coming five years. In terms of geographical area, growth rates in West Europe and North American are slower than the global average. The highest growth rates are in China and India - more than 10%. In 2009, Asia Pacific took the largest share of the additives and barrier market (42%), followed by North America (24.5%), Western Europe (19.9%), Central and Eastern Europe (5.4%), South America (3.9%) and the rest of the world (4.3%).