Wood and other natural fibers have been used in composites for many years. Recently there has been a resurgence of interest, particularly development of the wood-plastic composites industry and nanocellulose composites. A new generation of composites is emerging as material behavior is better understood, process and performance are improved, and new opportunities are identified. Recent trends such as the desire to decrease petroleum dependence, increase biocontent, commercial production of nanocellulose, and changing markets will play a major role in the future of these composites.
The global market for applications of wood-plastic composites (WPCs), cellulosic plastics, plastic lumber and natural fiber composites was estimated at about 2.4 mln metric tons in 2011. By 2016, it is estimated at nearly 4.6 mln metric tons and rising at a robust compound annual growth rate (CAGR) of 13.8%, as per BCC Research. The market for building products is expected to experience the highest growth, at a compound annual growth rate (CAGR) of 12.4% during the 5-year period from 2011 to 2016. This sector is expected to be worth 1.7 mln metric tons in 2011 and nearly 3.2 mln metric tons in 2016. The market for automotive applications is estimated at 350,000 metric tons in 2011 and is expected to increase at 17.1% compound annual growth rate (CAGR) to reach nearly 8,00,000 metric tons in 2016.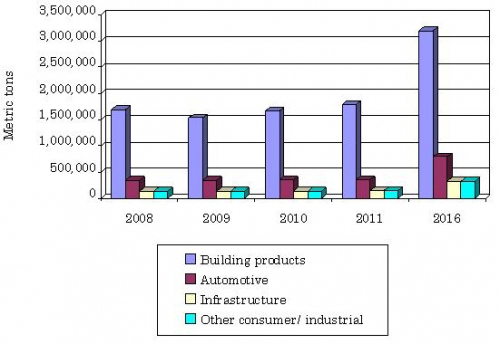 US demand for wood-plastic composite and plastic lumber is projected to advance over 13% pa to US$5.4 billion in 2015, creating a market for 2.6 bln lbs of plastic. Advances will be driven by a rebound in construction expenditures from a depressed 2010 base. Further growth will be boosted by increasing consumer demand for building products made from composite and plastic lumber, instead of more traditional materials, such as natural wood. Composite and plastic lumber offer a wide range of favorable performance properties, including durability, minimal maintenance requirements, resistance to degradation caused by the elements, and the ability to be cut and hewn like natural wood. The perception of these materials as being "green" products that keep materials out of waste streams and reduce deforestation will also support demand. Decking, which was the leading application for composite and plastic lumber in 2010, will experience the most rapid demand advances through 2015. Homeowners will install decks made from these materials instead of traditional natural wood lumber because composite and plastic lumber decks require less annual maintenance and have longer lifespans. While decks made from these materials may cost more initially, composite and plastic lumber decks can cost less in the long term, since they do not require annual staining or insect treatments. Among other applications, molding and trim and fencing are expected to post the most rapid demand gains through 2015. Molding and trim demand will be supported by the rebounding residential market increases in housing completions, boosting demand for building materials. Growth in fencing demand will be promoted by the residential improvement and repair market. Homeowners will install fencing made from vinyl and other materials because of their colorfastness and resistance to rotting. Demand for composite and plastic lumber in landscape and outdoor products, windows and doors, and other applications will be promoted by continued consumer recognition of the performance properties of these materials. Wood-plastic composite lumber will register more rapid gains than plastic lumber, advancing over 16% pa to US$2.5 bln in 2015. Gains will be driven by ongoing consumer interest in the material as a substitute for natural wood products in such applications as decking and fencing. Moreover, because wood-plastic composite lumber incorporates recycled materials, it is seen as an environmentally friendly building material. Plastic lumber demand is forecast to increase nearly eleven percent per year to US$2.8 bln in 2015. Gains will be spurred by heightened consumer interest in the material because of its low maintenance properties. The efforts of manufacturers to create plastic lumber varieties with more realistic woodgrain textures and surfaces will also support demand. 
As per Research and Markets, firm growth is forecast for wood plastics composites in Europe despite financial woes. From a slow start around 40 years ago, in the automotive sector, European production of wood plastics composites has both diversified in its applications and grown rapidly over the last five years to reach 193,000 tons by 2010. Another report forecasts continuing growth to almost 360,000 tons by 2015, which represents -- average annual growth of 13%, but nevertheless a slowing in growth compared with the 2005-10 period, as a result of the continuing difficulties in European economies. Decking is by far the largest application area with 75% of (non-automotive output), but the arguments for using WPC in other exterior and interior applications are strong. Much of the predicted growth is still expected to be in construction applications, most of which will be extruded. Important end-uses within the construction sector, besides decking, include siding or cladding, fencing and window applications. Germany, France and Belgium are amongst the most significant WPC producing countries in Europe and what these manufacturers anticipate most eagerly are other high-volume applications besides decking. In addition to European manufacture, imports of WPC from both the US and Asia have become increasingly important, particularly in the construction sector. WPCs have excellent environmental status and enormous scope for further grow