Smart fabrics are the amalgamation of conventional textile materials and polymer hydrogels imparting advanced properties. Bopolymers like chitosan, synthetic polymers are also used as components. Also, copolymerization of two different polymers has also proven significantly successful tool for grafting of 'smart' textiles. The major prospects of smart textiles include deodorant fabrics, drug/nutrient delivery fabrics, shape memory fabrics, breathable fabrics, color changing textiles.
Smart textile is integrated with electronic components and is widely used for various applications across health monitoring, health management, actuation and response, and communication. Smart textiles consist of components such as actuators, control units, sensors, and others. These textiles help to regulate body temperature, control muscle vibrations, and protect from environmental hazards such as radiation. The global smart textiles market is anticipated to take a leap at a CAGR of 30.8% during the period between 2015 and 2023, according to a research report published by Transparency Market Research, that projects the market to stand at a valuation of US$7730 mln by 2023. The overall market was worth US$700 mln in 2014. The growing usage of nanotechnology in producing fabrics with special functionality such as water and stain resistant, UV protection, and anti-bacterial has boosted the growth of the global smart textile market. With the help of nano-materials, nano-biotechnology, and nano-electronics, electronic components are embedded into smart textiles. The growing demand for wearable electronics has further augmented the growth of the global smart textile market. Smart textiles include garments such as gloves and coats that are connected to trackers, smartphones and other electronic devices. On the basis of function the global smart textiles market can be categorized into sensing, energy harvesting, luminescent, thermoelectricity, and others. The sensing segment has witnessed significant demand lately. In terms of applications, the report segments the global smart textiles market into military and defense, healthcare, automotive, entertainment, sports and fitness, and others including architecture and fashion. The military and defense sector accounted for 28.7% of the market in 2014. The miniaturization of electronic component has led to increased demand for wearable technologies and smart textiles across all application segments.
In 2014, the sensing segment accounted for share of 26.1% in the market. In 2014, North America was the leading region in the market and accounted for 40.1% of the overall market. The North America smart textiles market was followed by the markets in Europe and Asia Pacific. The U.S. and Canada are anticipated to contribute maximum revenue during the forecast period. Growing investment in research and development activities has propelled the growth of the market in North America.
Globally, the smart textiles were manufactured using woven or knitting technologies, however with recent advancements, electronics conductive inks can be printed on textiles. Dupont has invented conductive inks that can be printed on the textiles and can be used for longer period of time. Smart textiles include conductive materials such as silver, copper, nickel. The smart fibers are manufactured by using yarn with woven or knitted interactive materials, which can interact with the environment or the user. Such textiles are also referred to as e-textiles. Smart fabric is a traditional fabric with added interactive functionality such as power generation or storage, sensing, radio frequency functioning, human interface elements and/or assistive technology. As per Research and Markets, globally the smart textile for wearable technology market is growing at a rapid pace, at a CAGR more than 30% by 2021. Currently, the global smart textiles for wearable technology market is expected to grow at rapid pace. The growth in this market can be acknowledged to the drivers such as growing wearable electronics market, growing popularity of smart gadgets with advanced features, and growing demand for low cost smart sensors. However, the growth in this market is expected to be restrained by high cost of production of smart textiles and compatibility issues. As per the study, a majority of the revenue in the global smart textiles for wearable technology comes from its military and safety applications followed by home and architectural applications. Among the geographies Europe dominated the market in 2015 followed by North America. Asia Pacific region is expected to grow at the highest CAGR over the forecast period.
The past few years have seen the introduction of a number of wearable technologies, from fitness trackers to smart watches but with the increasing use of smart textiles, wearables are set to become 'disappearables' as the devices merge with textiles, according to a new report from Cientifica.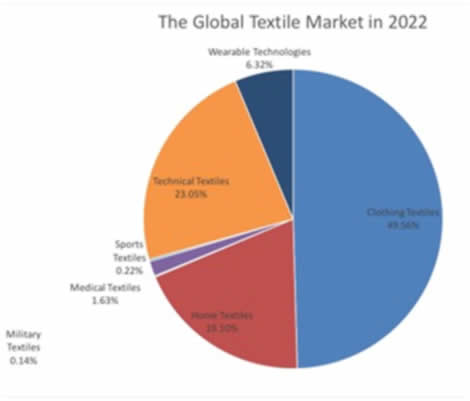 The textile industry will experience a growing demand for high-tech materials driven largely by both technical textiles and the increasing integration of smart textiles to create wearable devices based on sensors. This will enable the transition of the wearable market away from one dominated by discrete hardware based on MEMS accelerometers and smartphones. Unlike today's wearables, tomorrow's devices will be fully integrated into the garment through the use of conductive fibres, multilayer 3D printed structures and two dimensional materials such as graphene. This represents significant opportunities for both existing smart textiles companies and new entrants to create and grow niche markets in sectors currently dominated by hardware manufacturers such Apple and Samsung. The market for wearables using smart textiles is forecast to grow at a CAGR of 132% between 2016 and 2022 representing a US$70 billion market. Largely driven by the use of nanotechnologies, this sector has the potential to be one of the largest end users of nano and two dimensional materials, with wearable devices accounting for over half the demand by 202