The global commodity polymers market continues to be under severe pressure from challenges such as the European debt crisis, a slowdown in growth of emerging markets and increased competition. Despite these challenges, overall polymer consumption is poised to grow at a compounded annual growth rate (CAGR) of 4.7% pa through 2015. A plunge in global consumption during the 2008-2009 economic crisis was followed by demand recovery in the following years. Yet, a full recovery to pre-crisis levels is still far off in mature economies. To top this situation, the industry has entered another difficult period during 2011- worsening of the European debt crisis, volatility of the capital markets and a faltering economy have all destabilized confidence at a global level. The cumulative global consumption of polyethylene (PE), polypropylene (PP), polyvinyl chloride (PVC) and polystyrene (PS) excluding expandable PS - in 2011 is estimated at 178 mln tons or 4.5% over 2010 levels. The largest increases were recorded by PVC at 6.2% and linear low density PE (LLDPE) at 5.8%. However, growth was hampered considerably on the widespread slowdown of key end-markets, also in some of the fastest-growing economies.
China is the largest world market for each of these polymers, accounting for 49 mln tons in 2011 or 27% of global demand. China's market recovered quickly after 2008, thanks to government economic stimulus measures and incentives to boost consumption. PE and PVC demand recorded consecutive double-digit annual increases in 2009 and 2010. Overall Chinese demand growth in 2011 is estimated at 5.6%, 5.4 percentage points lower than the 11% growth in 2010. The government's efforts to curb inflation through restrictive monetary policy resulted in a tight credit market, which hurt investment and demand. Furthermore, China's exports of finished and semi-finished plastic products had to cope with lower demand from export markets, and with some loss of competitiveness due to the stronger yuan. The electronic and household appliances sectors in China slowed down notably during the Q2 and Q3 of 2011 on weak domestic sales and exports to traditional markets in the West. Later in the year, shipments to fast-growing countries such as India and Brazil also decelerated. PS demand grew less towards manufacture of TVs, computers and electronic accessories, which resulted in a weak peak demand season. PE and PP performed relatively better thanks particularly to the packaging sector and agriculture applications. But China's automotive industry worsened overall with a slight increase in the production of passenger cars, and a decline in commercial vehicles, that mainly impacted PP consumption. The domestic PVC market recorded another year of substantial growth, but at a reduced pace. Government policies aimed at limiting speculation in the housing market and preventing a bubble, such as restrictions on mortgages and pre-sales of homes, have cooled down the property sector. This has impacted demand for PVC, and high density PE (HDPE) to a lesser extent. Remarkably, the profitability of the polymers sector in China worsened on the mounting costs of energy and raw materials and volatile downstream demand. Major PP producers chose to reduce operations in mid-2011 due to tight margins. Many PVC operators reported small profits or losses during most of the year. Also, margins over the ethylene chain declined as PE prices weakened in the fourth quarter.
World Commodity Polymers Consumption CAGR (%/Year)

2000-11
2011-15
PE
3.8
4.5
PP
4.1
5.8
PVC
2.7
4.2
PS
-0.3
2.9
Source: ICIS Consulting
The fast-growing polymer market of India also faltered during 2011. Since the second quarter, the slowdown of industrial activity and later the credit policies introduced by the government to control growing inflation, resulted in reduced demand growth for commodity plastics. Producers operated at below capacity during the last months of the year because of weak domestic downstream markets. Sluggish export markets in the US, Europe and China also impacted production, particularly for PP and PE. The double-digit dip in auto production in October largely affected PP copolymers consumption. The increase in interest rates that slowed construction and other key activities hit PVC growth. Buyers reduced purchases progressively. However, a tight spot market, the weak rupee and higher cost of raw materials led to some price recovery by year-end. Other factors contributed to the distress in the global polymers industry during 2011, such as the tsunami disaster in Japan, political unrest in northern Africa and the floods in Thailand. The slowdown of the Chinese and other Asian economies by year-end also affected production in exporting countries like South Korea. Output in the country was down by 1% for PE, and 2% for PP and PS in 2011 versus 2010.
Polymers supply in Europe remained long during most of 2011. Substantial cuts to production were not enough to offset lackluster demand. As a whole, consumption was sufficient, though not robust during the first half of the year, but softened considerably since September. Polystyrene oversupply was particularly felt for general-purpose material. PP and PE output was curtailed heavily in the last months of the year, as buyers kept inventories low. The subsequent reduction in spot prices helped somewhat to sustain PP exports outside Europe, while PE and PVC producers suffered from increased competition from Asia and the US, where energy and feedstock costs were declining. The ramp-up of new polyolefin capacity in the Middle East added stiff competitive pressure in Europe, Africa and particularly in the Asia markets. However, a number of operational issues have limited their impact to some extent. In the US, the continued switch to the cracking of ethane with the availability of cheap feedstock from shale gas has sustained competitiveness for PE and PVC producers. Total exports in 2011 are estimated at 4.3 mln tons (including copolymers) for PE and 2.9 mln tons for PVC. PVC exports increased year-on-year, both to Mexico and outside the region (estimated up by 6.4%), with growing volumes shipped to Brazil, Chile, Venezuela, Russia, China, the Middle East and northern Africa, and declining shipments to Canada, Europe and Southeast Asia. The US is also a significant exporter of PP, with 1.8 mln tons in 2011 (including copolymers), but the picture is worse because of the reduced availability of propylene - a result of the switch from naphtha cracking as well as closures of refineries. Net PS exports are estimated at around 350,000 tons for 2011, partly hit by a volatile benzene market. The outlook for commodity polymers in 2012 is one of prolonged volatility, as much will depend on the global macroeconomic environment. The European markets are being hurt by austerity measures to deal with the sovereign debt crisis, leaving little room for a resurgence of downstream consumption.
Tight availability of propylene in the US is also exerting pressure on the Latin American markets, where PP demand is higher for most grades in applications, particularly from the automotive and agriculture sectors. The rising cost of propylene may prompt additional product substitution in the Americas markets, particularly in the less-advanced PP applications. Processors may further switch to HDPE, and in some cases to PS - but this also depends on the trend of styrene. On the other hand, in early 2012, low ethylene costs have improved margins for integrated PE and PVC producers in the US. Should a slight improvement in domestic housing activity occur as expected, this would support PVC prices. Short-term demand in Latin America will likely be aided by inventory restocking.
Also in China, stock movements in the polymer markets also may help sales return to trend. PVC growth could slow down to single-digit rates, following the recent reduction of residential construction activity and mounting fears about an upcoming depression of the real estate market. However, the real estate market could be supported to some extent by ongoing public plans for the construction of subsidized apartments.
Volumes from the Middle East will likely squeeze margins again in the coming months, since new capacities are also due on stream during the year. Saudi Polymers is expected to start commercial operations at its project, which includes two 550,000 tpa HDPE/LLDPE plants, one 400,000 tpa PP facility, and two 100,000 tpa PS units. Saudi Kayan is due to start in mid-2012 a 300,000 tpa LDPE plant. Qatar Petrochemical Company (QAPCO) is expected to launch a 300,000 tpa LDPE facility at Mesaieed. In addition, ExxonMobil Chemical is due to commission in 2012 its two 650,000 tpa PE units at Jurong Island in Singapore, which will also include the production of metallocene polymers. India's Hindustan Petroleum and Mittal Energy (HMEL) could start up in April a 440,000 tpa homopolymer-PP plant in Punjab, India. Also, Mangalore Refining & Petrochemicals (MRPL) is reportedly experiencing a delay in the construction of a 440,000 tpa PP facility at Mangalore, but it is expected to eventually be commissioned during the year. The wave of new capacity is likely to generate additional market tension, despite the expected higher growth of the plastics market in Asia. It is anticipated that Indian polymers demand will start growing rapidly again, aided by government subsidies to agriculture development and easing credit for farmers, which may boost demand for PP-raffia grades for food (grain) packaging or for PVC for irrigation pipes. The auto industry in Thailand will continue to attract foreign investment, such as the PP compounding units jointly established in the country by Japan's Mitsui and Siam Cement, which will be expanded during 2012.
World commodity polymers consumption is estimated to reach 214 mln tons by 2015, with PE accounting for the largest share of the increase. PP growth will also be significant in the same time frame, and the increasing number of proposed on-purpose plants for the production of feedstock propylene could ease the current tightness in the coming years. PS consumption in a number of traditional applications such as packaging, electronics and appliances may increase as a result of the diminished cost-advantage of PP. Also, PS could benefit from ongoing development of applications in furniture, housing, and particularly rigid packaging. The cost advantage of the ethylene chain in the US could support PE and PVC exports in the near future.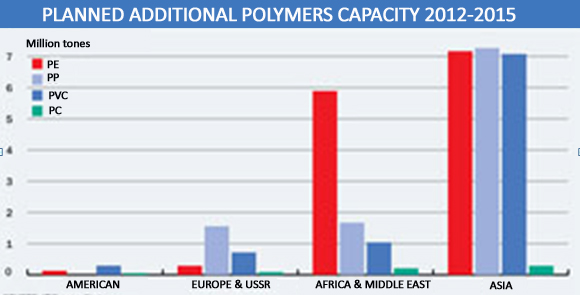 Over a longer period, global competition is set to increase as soon as further projects materialize in the Middle East, such as Borouge III at Ruwais, Abu Dhabi. Due on stream in 2014, this will include two 540,000 tpa HDPE/LLDPE units, two 480,000 tpa PP units and a new 350,000 tpa LDPE facility. Producers in the Americas are also expected to invest aggressively beyond 2015, and several polyolefins projects are being developed in the US, Mexico and Brazil, to be on stream during 2015-2020. Downstream demand will remain a major concern for the European polymer industry in the mid-term. Lackluster consumption may prompt further industry consolidation. Long-term competitiveness of polymers producers in Europe will also depend on their level of integration. Profitability will be skewed towards the higher value-added products. Product advancements may prompt further investments intended for high-quality niche markets. China will enhance its efforts to control the flow of imports to meet its polymers requirements, and to back integrate its supply structure with competitive feedstocks to enhance its position on the cost curve. However, it is expected to remain a large net importer, despite the considerable increase in capacities. To what extent will depend on price competition, especially for commodity grades of PP and PVC, and of PE from the Middle East; the growing demand for products with higher specifications; and other contingent issues, such as the impact of the rationalization of the use of carbon and energy resources in the PVC industry. Partial support to the domestic supply base will come from ongoing investments in projects to obtain olefins from diversified routes, including coal-to-olefins (CTO) and propane dehydrogenation (PDH). The Southeast Asia region will continue to offer high-growth opportunities for commodity polymers, in parallel with the development of several sectors including building and infrastructure, agriculture, automotive, health care and general packaging applications.
(Source Courtsey: ICB as reported by ICIS)