A large opportunity lies in the development of devices in a flexible form that can operate without deterioration in performance, allowing them to be more robust, lightweight and versatile in their use. In order for flexible displays and photovoltaics to be commercially successful, they must be robust enough to survive for the necessary time and conditions required of the device. This condition has been a limitation of many flexible, organic or printable electronics. This highlights the fact that beyond flexibility, printability and functionality, one of the most important requirements is encapsulation as many of the materials used in printed or organic electronic displays are chemically sensitive, and will react with many environmental components such as oxygen and moisture. These materials can be protected using substrates and barriers such as glass and metal, but this results in a rigid device and does not satisfy the applications demanding flexible devices. Plastic substrates and transparent flexible encapsulation barriers can be used, but these offer little protection to oxygen and water, resulting in the devices rapidly degrading.
In order to achieve device lifetimes of tens of thousands of hours, water vapor transmission rates (WVTR) must be 10-6 g/m2/day, and oxygen transmission rates (OTR) must be < 10-3 cm3/m2/day. For Organic Photovoltaics, the required WVTR is not as stringent as OLEDs require but is still very high at a level of 10-5 g/m2/day. These transmission rates are several orders of magnitude smaller than what is possible using any conventional plastic substrate, and they can also be several orders of magnitude smaller than what can be measured using common equipment designed for this purpose. For these (and other) reasons, there has been intense interest in developing transparent barrier materials with much lower permeabilities, a market that will reach over US$240 mln by 2023.
Water vapor and oxygen transmission rates of various materials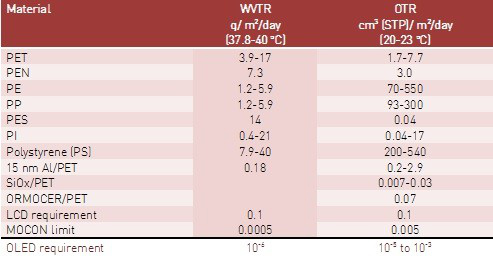 Source: IDTechEx

Barrier layer market forecasts 2013-2023* in US$ thousands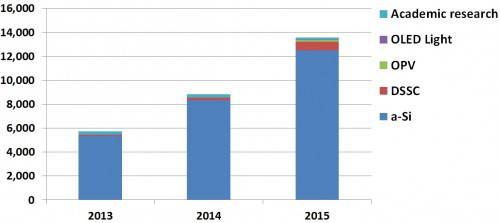 Source: IDTechEx
As more and more companies are gearing up and demonstrating flexible display prototypes (LG, Nokia, Samsung), the need for protection of these new devices that are freed from the constraints of conventional rigid form factors is highlighted once more. IDTechEx Research has forecast the market for flexible barrier films to conservatively grow to just over US$34 mln by 2016. Up until that point, over 95% of the market is accounted for from a slowly growing market for flexible photovoltaics based on CIGS and a-Si platforms.
A percentage breakdown of the market by applications for flexible barrier films in 2013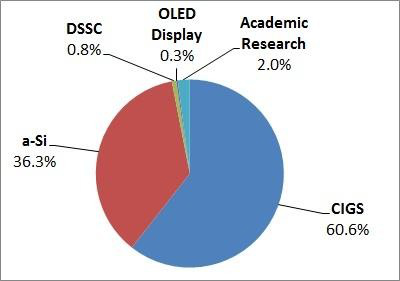 Source: IDTechEx
The really significant growth though, is expected to kick in once flexible display technologies move out of the prototyping stage and start becoming commercial products, changing the way consumers interact with their portable electronic devices. By 2023, the market for flexible barriers will already be over US$240 mln, with display technologies accounting for over a third of that value.
Applications
OLED displays and lighting
The realization of flexible OLED applications still requires further advances in thin film encapsulation technology due to OLEDsensitivity to oxygen and moisture. Several barrier architectures are possible and each technology is characterized by different materials, manufacturing processes and final barrier properties. The widely quoted requirement for water vapour transmission rate (WVTR) for an OLED lifetime of >10,000 hours is 10-6 g/m2/day. Barriers of this level of performance are not widely available yet but several barrier technology developers already have manufacturing facilities for small volumes and samples available. On the other hand, flexible electrophoretic displays (EPDs) are already being commercialized but that's mainly due to the fact that EPDs are not sensitive to oxygen and moisture. In fact, IDTechEx Research shows that a small amount of moisture is actually beneficial for EPDs so the technology has little or no need for a high performing barrier layer that minimizes water vapour permeation.
Photovoltaics
Flexible solar cells on the other hand are already available in the market, currently serving low-volume markets such as portable power (portable solar chargers, apparel-integrated PV etc.) and emerging segments such as power for developing countries. Building and automotive integrated PV is a major target market for flexible thin film PV cells, given their light weight, versatility in form factor and ease of installation/integration. Costs in these market segments are still prohibitive though, hence the limited volume of deployments and slow uptake of the technology. Water vapour transmission rates (WVTR) for these types of solar cells, in order to serve their target ranges from 10-3 g/m2/day for CIGS and a-Si all the way to 10-6 g/m2/day for the more sensitive dye sensitized solar cells (DSSC) and Organic PV technologies. The lower level necessary for CIGs or a-Si encapsulation is already achieved by many barrier film manufacturers which indicates a technological maturity and a market that will grow depending on power output, cost metrics and finally, end-user adoption.