Mounting consumer pressure and legislation such as plastic bag bans and global warming initiatives will increase demand for biodegradable plastics in North America, Europe and Asia by nearly 15% annually until 2015, according to a new report by IHS Chemical. Demand will grow from 269,000 metric tons in 2012 to nearly 525,000 MT in 2017. Biodegradable polymers are a part of the larger overall bio-plastics market. Typically, bio-plastics are either bio-based or biodegradable, although some materials are both. "The biodegradable polymers market is still young and very small, but the numbers are off the charts in terms of expected demand growth and potential for these materials in the coming years," said Michael Malveda, principal analyst of specialty chemicals at IHS Chemical and the report's lead author. "Food packaging, dishes and cutlery constitute a major market for the product because these materials can be composted with the food waste without sorting, which is a huge benefit to the waste management effort and to reducing food waste and packaging disposal in landfills. Increasing legislation and consumer pressures are also encouraging retailers and manufacturers to seek out these biodegradable products and materials." These biodegradable polymers offer expanding uses for biomedical applications. Another developing use for these biodegradable polymers is in the shale gas industry, where they are used during hydro-fracking. In 2012, Europe was the dominant market for biodegradable polymers, consuming about 55% of world consumption; North America accounted for 29%; and Asia approximately 16%. Landfill waste disposal and stringent legislation are key market drivers in Europe and include a packaging waste directive to set recovering and recycling targets, a number of plastic bag bans, and other collection and waste disposal laws to avoid landfill. The most acceptable disposal method for biodegradable polymers is composting. However, composting requires an infrastructure, including collection systems and composting facilities. Composting has been a growing component of most  European countries' municipal solid waste management strategies for some time, and the continent has an established and growing network of facilities, while the U.S. network of composting facilities is smaller, but expanding. North American consumption of biodegradable polymers has grown significantly in recent years, according to the IHS report, primarily due to the following factors—biodegradable polymers have become more cost competitive with petroleum-based products, and there has been growing support at the local, state and federal levels for these products (for example, legislation defining biodegradability, and plastic bag bans). In addition, there has been progress in addressing issues relative to solid waste disposal, such as improving composting infrastructure. Said Malveda, "A couple of main barriers to these biodegradable polymers are price and performance, which will become less significant as processing technologies improve, more applications for their use are developed, and production increases. Regulations such as plastic bag bans are being enacted in many countries, and this stimulates new research investments for alternative materials and new uses." In Asia, there has been some growth of biodegradable polymers use due to government and industry promoting their use. This also includes plastic bag bans and global warming initiatives. However, Asian consumption of biodegradable polymers has not increased as much as expected. Current market prices of biodegradable polymers continue to be higher than conventional, petroleum-based resins. However, the Chinese market is expected to grow rapidly due to new capacity and government legislation supporting the environment. Future growth will also depend on price reductions. In 2012, the two most important commercial, biodegradable polymers were polylactic acid (PLA) and starch-based polymers, accounting for about 47% and 41%, respectively, of total biodegradable polymers consumption. Starch sources vary worldwide, but include corn, potatoes, cassava and sugar beets. In Europe, starch-based biodegradable polymers are the major type consumed, accounting for 62% of the market, due to Europe's large, starch-based capacity and their use in many applications. This is followed by PLA, with 24% and other biodegradable polymer types with 14%.
As per MarketsandMarkets, the use of renewable resources such as biomass-and bio-based raw materials such as starch, vegetable crop derivatives in manufacturing of plastics is driving the market for biodegradable plastics. As of 2009, bio-based plastics accounted for about 93% of the overall biodegradable plastics market. The use of biodegradable plastics in various applications such as packaging, domestic goods has enabled the plastic manufacturers to lessen the dependence on petroleum-based plastics. Biomass, a key raw material used in the manufacturing of biodegradable plastics is organic in nature which means that the plastic is absorbed back into the earth as the components and avoids tons of plastic laying in the landfills, taking decades or longer to break down. As in the case of traditional plastics, packaging is the largest application segment in the overall biodegradable plastics and accounts for 55-60% of the overall market. Packaging applications have been further segmented into rigid packaging, loose fill packaging, compost bags, and others. Loose fill packaging is the largest segment in packaging application for biodegradable plastics. Increasing consumer awareness for sustainable products and manufacturers concern for developing eco-friendly packaging is shifting the trend towards biodegradable plastics from their petrochemical counterparts. Also the increased manufacturer's recognition of marketing value of sustainable product will further drive the market especially in North America and Europe. The overall scenario for biodegradable plastics is significantly positive with a critical need to expand production capacities and increase consumer awareness. The increasing demand for renewable and bio-based materials and shift in consumer preference for eco-friendly packaging is driving the market for global biodegradable plastics. The global biodegradable plastics market in terms of volume is expected to grow from 664,000 metric tons in 2010 to 2330,000 metric tons by 2016, at an estimated CAGR of 20.24% from 2011 to 2016.
Global Bio-Based Biodegradable Plastics Market, By Applications, 2016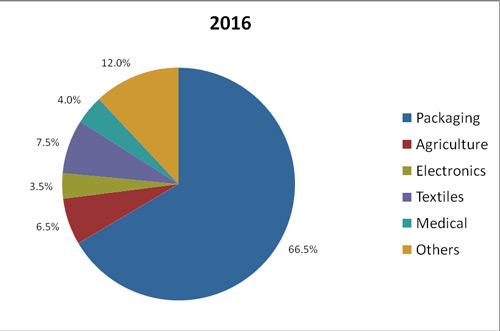 Biodegradable plastics offer tremendous potential in various applications including packaging, electronics, transport, textiles, and medical. Amongst all market segments, the starch-based plastics market commands the largest share in terms of volume, while PLA-based plastics lead the market in terms of value. Packaging forms the largest application market due to increased consumer awareness for sustainable packaging. The packaging application contributed over 50% of the global biodegradable plastics market in 2010. In PLA-based plastics, textiles applications are expected to have the highest CAGR of 23.16% from 2011 to 2016. Europe accounted for the major share for the global biodegradable plastics market estimated to be 40.6% in 2010. This was primarily due to the fact that focus on sustainability is significant in Europe, especially in the European Union. Due to this, Europe is the most regulated market especially when it comes to certifying and commercializing new plastic products. North America forms the second largest market for biodegradable plastics in the world. The market players are focusing in agreement and collaboration in order to share technical expertise in the production of biodegradable polymers, which therefore accounted for the highest share of the total competitive developments in the global biodegradable plastics market from May 2008 to April 2011. Industry participants with the most agreement and collaboration and significant product developments include Cardia Bioplastics Limited, Cereplast, Purac, and Telles. In 2011, Cereplast Inc. has concluded a multi-million dollar distribution agreement with BioWorks Pl for the distribution of Cereplast bioplastic resins in the Poland market.