Once led by aerospace and space applications in India, carbon fiber composites are increasingly being used in a host of new industrial applications where material cost is secondary to performance, high strength and reduced weight considerations. Indian carbon fiber composites market is poised for dramatic growth rate of 22% and expects to reach over US$ 50 mln in the next 5 years, driven by various industrial applications, as per Composite Insights. One of the important sectors substantiating the demand for composites is the renewable energy production, in particular, wind energy generation which is to satisfy the global goal of reducing fossil fuel dependency. Wind energy is the fastest growing renewable energy source and India is rated the fifth-largest wind power generator globally. As is projected, almost 100,000 tons of composites is required to create approx. 45,000 MW in the country; a huge rise in the renewable energy sector is, thus, being contemplated. This growth is directly proportionate to an increase in the usage of composite products as is evident by the success of wind energy technology and the development and use of composite materials for turbine parts since the first steps of wind energy utilization. While the first turbine, built with steel blades, was unsuccessful, the second one, with composites blades, worked for many years. Thanks to their superior mechanical properties, higher strength and lower weight, as compared to many metals and alloys, as well as the possibility of tailoring the microstructures, composites found a broad applications in structural, civil and mechanical engineering, automotive and energy applications. Indian carbon fiber composites market is poised for dramatic growth and expected to reach US$53 mln by 2018. The industrial market is expected to witness very strong growth, followed by aerospace segment. Consumer goods market is expected to post slow growth between 2013 and 2018. The research indicates future growth of the carbon fiber composites market in India will be driven by various industrial applications. In order to meet the surging demand from various customers for highly valued intermediate material including prepregs, many companies have increased their focus on Indian market recently. For example, Toho Tenax Co. Ltd., announced that it will develop and market carbon fiber fabrics for India's composite industry in collaboration with Hindoostan Technical Fabrics Limited. Kemrock Industries and Exports Ltd., one of the leading manufacturers of Reinforced polymer (FRP) composites, commissioned India's first carbon fiber manufacturing facility in Vadodara, Gujarat.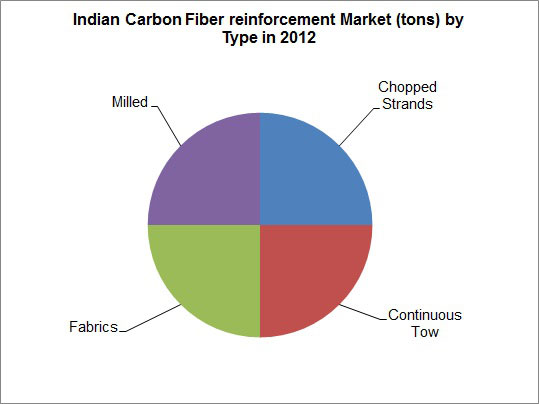 Despite the high cost of raw material, scarce availability of many essential materials due to import restrictions, and the lack of mechanized processes, the Indian composites industry posted substantial growth from 2006-2011. The market is expected to continue its strong growth momentum to reach approximately US$1.8 bln by 2017 with a CAGR of 14.9% over the next five years, as per Lucintel. The research indicates that the higher market growth is due to the emerging Indian economy and increasing demand in domestic consumption and production as well. Future markets are expected to be highly competitive and companies with innovative capabilities can thrive and gain market share. The composites industry has become highly volatile in the short term, and global financial uncertainties or political instability can bring sudden changes to the marketplace. In the long term, the composites industry is considered extremely viable with more than 5,000 composites applications worldwide with great growth potential. The composites industry in India is characterized by a large number of players in end-use applications. Tremendous competition among the players in individual categories allows very little room for price manoeuvering by individual manufacturers in any sector, whether it is pipe and tank, railway, or auto components. Almost every sector, however, has market leaders that operate at a comparatively larger scale and employ automated processes, nevertheless falling short of the total market demand.
US demand for high performance composites - i.e., polymer materials containing advanced fiber reinforcements -- is forecast to rise almost 15% pa to US$10.2 bln in 2016, as per Freedonia. Advances will represent a considerable improvement over the pedestrian growth of the 2006-2011 period, during which composite demand was hampered by declines in military and sporting goods applications. Going forward, high performance composite demand will be fueled by tremendous growth in the commercial airliner market as well as emerging opportunities in applications such as wind turbines and pressure vessels. However, the relatively high cost and labor-intensive production of advanced composites will prevent these materials from penetrating high volume and price-sensitive markets. Aerospace markets will remain the leading outlet for high performance composites in 2016 and will be by far the fastest-growing. While composites have long been used in military aircraft and helicopters, they are beginning to penetrate the commercial airliner segment on a large scale as well. The production ramp up of the Boeing 787 DREAMLINER, which has more than 50% composite content, will drive the bulk of the increases in high performance composite demand. Rising production of other composite-intensive airliners, such as the Airbus A380 and A350 XWB, will also benefit demand. Outside of aerospace applications, another strong area of growth for high performance composites is the burgeoning wind energy market. Much slower growth is expected for defense and safety applications -- due to a reduction of combat forces in Iraq and Afghanistan -- and the highly mature sporting goods market. The motor vehicle market, which holds perhaps the greatest potential for high performance composites, will see only moderate gains in demand, as their use continues to be restrained by high cost and slow production speeds. Among product types, carbon fiber composites will continue to account for the largest portion of demand, totaling 83% of the high performance market in 2016. Carbon fiber composites will benefit from robust growth in the aerospace market as well as their versatility, good balance of mechanical properties, and moderate cost compared with other high performance composites. S-glass fiber composites -- the least costly of all advanced composites -- will also see double-digit gains in demand, fueled by opportunities in aerospace, wind energy, and pressure vessel markets.Currently, the market for carbon fiber composites is estimated at US$10 bln globally, and observers expect that it could reach as high as US$40 bln by 2022. Aspiring and established carbon fiber manufacturers and a variety of marketing partners are positioning themselves to meet the vastly increasing need for raw fiber and fibrous reinforcement products, as per compositesworld.com. The Dow Chemical Co., through its wholly owned subsidiary Dow Europe Holding BV, and carbon fiber producer Aksa Akrilik Kimya Sanayii A.Ş. (Istanbul, Turkey) announced the formation of DowAksa Advanced Composites Holdings BV, a 50/50 joint venture (JV) to manufacture and commercialize carbon fiber and derivative products. Aksa and Dow had previously signed a definitive agreement to form the JV on Dec. 20, 2011. DowAksa will develop and globally market a broad range of products and provide technical service and support, with emphasis on industrial applications, including energy, transportation and infrastructure. Toho Tenax Co. Ltd. (Tokyo, Japan), the core company of the Teijin Group's carbon fibers and composites business, announced plans to develop and market carbon fiber fabrics for India's composites industry in collaboration with Hindoostan Technical Fabrics Ltd. (Mumbai, India), a carbon and aramid textile manufacturer. This will be the first time Toho Tenax has partnered with a textile manufacturer in India's carbon fiber sector. Under the agreement, Toho Tenax will supply its proprietary Tenax carbon fiber to Hindoostan Technical Fabrics for weaving and processing. The two companies will jointly market the resulting fabrics to Indian manufacturers of composite materials and reinforced sheets that serve industrial segments, including transportation, aerospace and railway; wind power; sports and leisure; medical equipment; construction reinforcement and retrofitting; and electronics (i.e., computer and mobile phone housings).