Solar photovoltaic is a technology that converts solar energy into useful energy forms by absorbing solar photon (particles of light that operate as individual units of energy). Solar cell is an electrical device that translates light energy into electric energy or electricity using photovoltaic effect. Solar PV modules can be clustered together as an array of parallel or series connected modules to give any level of power requirements, from mere watts to kilowatt and megawatt size. Different types of solar cells are cadmium telluride solar cell, polycrystalline, hybrid solar cell, buried contact solar cell, dye-sensitized solar cell, plastic solar cell, thin film solar cell, monocrystalline solar cell, plasmonic solar cell, and polymer solar cell among others.
As per Transparency Market Research, CPV (concentrated photovoltaic) technology employs optics such as curved mirrors or lenses to collect large amount of sunlight on a small area of solar photovoltaic (PV) cells in order to generate electricity. CPV systems offer several advantages over non-concentrated photovoltaics. As a smaller area of photovoltaic material is required, CPV can save money on the cost of the solar cells. CPV requires less photovoltaic material to capture the same sunlight as non-concentrating PV. CPV make use of high-efficiency but expensive multi-junction cells cost-effectively viable due to smaller space requirements. However, in order to get sunlight focused on the small photovoltaic area, CPV systems need extra spending on solar trackers, concentrating optics (mirrors or lenses) and cooling systems. Owing to this of these extra costs, CPVs are far less common compared to non-concentrated photovoltaics. Nevertheless, ongoing research and development is trying to improve CPV technology and lower its costs. The most widespread segmentation of CPV modules can be done on the basis of degree of concentration, which can be expressed in number of suns. Different types of CPVs are LCPV (low concentration photovoltaics), medium concentration photovoltaics, HCPV (high concentration photovoltaics) and luminescent solar concentrators. According to Plastics Institute of America, Europe is expected to remain the largest regional market with 16.48 GW of PV demands which accounts around half of the global demand. Asia-Pacific was the second largest market fueled by the remarkable growth of the Chinese market. China is expected to outpace Germany in the coming year in order to become the leading PV consumer. Government renewable targets, financial incentives, technology cost reductions are three major forces who are currently driving the adoption of solar across the globe. Government policies are considerable drivers for solar photovoltaic market. By 2020, solar is predicted to be cost competitive to traditional electricity, independent of government policies and subsidies across most of the world.

Global photovoltaic (PV) solar installations will rise to 45.4 gigawatts (GW) in 2014, with 32% of this total (14.4 GW) coming in the fourth quarter, according to IHS Technology. Although IHS has trimmed its forecast for 2014 by 1.5 GW due to weaker-than-predicted performance in several key markets, a 20% increase is still forecast in installations from 37.8 GW in 2013. Driven by strong demand in China and the United States, the final quarter of the year will again be the largest in terms of new installations. A total of 32% of annual installations will occur during the fourth quarter, as presented in the attached figure. IHS predicts that these two countries alone will account for more than half of all global demand in the final quarter of 2014.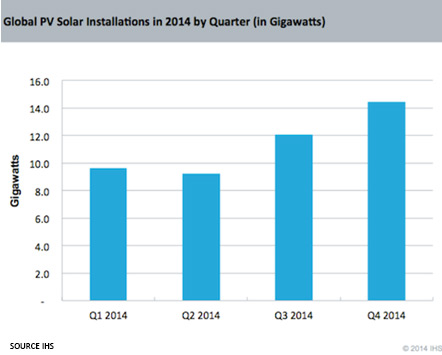 "Following a first half that saw declines in several key countries, the global PV solar market is undergoing a major acceleration in the final quarter of the year," said Ash Sharma, senior director of solar research at IHS. China and the United States will propel global growth. With China installing more than 5 GW and the United States installing 2.3 GW in Q4-2014, these two countries will account for more than 50% of global installations during this period. The huge final quarter in China is expected to be only slightly higher than what was achieved in the same quarter of 2013 - a figure that surprised many in the industry. Several countries achieved strong installations in the first half of the year, including the United Kingdom and Japan. However, there were also declines in Europe and in countries that typically undertake more installations toward the end of the year. This set the stage for a major rebound in installations during the second half of the year. However, Germany and Italy will see another year of market decline with only 2.1 GW and 0.8 GW of new installations in 2014, respectively, down from 3.3 GW and 1.7 GW in 2013. Throughout 2014, IHS has expressed doubts over China's capability to meet the ambitious targets the government set for distributed PV (DPV) in 2014. After a recent adjustment from its government, the country's overall target of 13 GW is now in line with the forecast. However, ground-mount PV is predicted to dominate the market this year and account for 8.5 GW of installations. DPV is struggling to overcome barriers, including the lack of suitable rooftops and difficulties in obtaining financing. Installations in the U.S. are forecast to follow a similar seasonal pattern in the final quarter. Installations have been ramping up throughout the year, and IHS predicts that 33% of U.S. installations in 2014 will be completed in the fourth quarter.
Among the leading photovoltaic markets in 2014, the United Kingdom is experiencing the strongest percentage growth by far. The country saw a huge boom in utility-scale installations in the first quarter as developers took advantage of the attractive renewable obligation certificates (ROC) scheme, which offered 1.4 ROC per megawatt-hour (MWh). The U.K's massive growth in 2014 is in part an unintended consequence of the government's review and subsequent closure of the ROC scheme to PV projects above 5 MW in size. The resulting rush to beat the March 2015 deadline of the expiration of the scheme will lead to 3.1 GW of PV installations being completed in the fourth quarter of 2014 and the first quarter of 2015. A significant portion of this is estimated to be completed in 2014 to avoid the bottleneck and delays in connections that were seen during an equivalent rush in February and March of this year. In total, IHS forecasts 3-3.2 GW of new installations in 2014, making the United Kingdom the fourth largest market this year after China, Japan and the United States. Following a strong first quarter in 2015, in which more than 65% of annual installations in the U.K. will take place, utility-scale installations will fall, leaving residential and commercial rooftops as the main sectors.
Annual growth of global PV installations in 2013 and 2014 will be more than 20% as established markets have expanded rapidly. However, IHS is forecasting increases to slow to 16% with 53 GW of new capacity being installed. China's market more than doubled in 2013 and is projected to grow by 30% in 2014. Unless new policy or targets are raised further, China's annual growth is predicted to slow to 10% in 2015 - but still sufficient for the country to remain the largest end market globally. Meanwhile, installations in Japan are expected to peak in 2014 at 9.1 GW, before slightly declining in 2015 as land availability, grid connection issues and an upcoming feed-in tariff review take their toll on demand. Emerging regional hot spots across the globe represent huge opportunities for growth, and such markets will steadily increase their share. However, development in these regions should not be overestimated, as policies are slow to be implemented and governments are keen to avoid the boom-bust scenarios seen in other markets.
There is no one single solar photovoltaic (PV) market. Local market conditions, retail electricity rates, incentives, and types of system all vary widely and dramatically affect the cost of a system and its applicability to a region. Following years of solar PV module oversupply and unsustainable, often artificially low pricing, 2013 is expected to be the year that the global solar PV market begins to stabilize. Market activity is shifting from Europe to Asia Pacific and, potentially, the United States as these markets reach maturity and near grid parity in terms of costs. There is also considerable opportunity in other regions, led by Chile, South Africa and Saudi Arabia. At the same time, solar PV is becoming a commodity. Solar PV technology costs have steadily declined, and pathways to further cost reduction are being pursued. By the end of the decade, solar PV is expected to be cost competitive with retail electricity prices without subsidies in a significant portion of the world. Navigant Research forecasts that annual revenue from solar PV installations will surpass US$134 bln by 2020.
Following years of oversupply and unsustainable, often artificially low module pricing, 2013 is expected to be the year that the global solar photovoltaic (PV) market begins to stabilize. Market activity is shifting from Europe to Asia Pacific and the United States, as these markets reach maturity and solar PV approaches grid parity in a growing number of regions. Considerable opportunity also exists in emerging markets, led by Chile, South Africa, and Saudi Arabia. "Financial incentives, government renewable energy deployment targets, and technology cost reduction are still the most important drivers of the solar PV market", says Dexter Gauntlett, research analyst with Navigant Research. In most cases, these renewable energy deployment and cost reduction targets will be met or exceeded, with 438 GW of solar PV installed cumulatively between 2013 and 2020. By the end of 2020, solar PV is expected to be cost-competitive with retail electricity prices, without subsidies, in a significant portion of the world.
Several emerging trends will shape the trajectory of the global solar PV market over the next several years, according to the report. Utility-scale solar PV power plants are coming online, while lower system prices are opening up new markets for distributed PV and helping the technology reach grid parity more quickly in high-cost retail electricity markets. In distributed solar PV markets, innovative financing options are making the technology available to more homeowners and commercial property owners. At the same time, many countries have retooled their financial incentives, often placing greater emphasis on onsite generation, to prevent an overheated market. As a result, many companies see 2017 (the year after solar PV investment tax credits are reduced to 10% in the United States) as the year that solar PV will be able to stand on its own without subsidies in most major markets.