After several years of negligible increases in bi-oriented polypropylene (BOPP) film usage in Western Europe, PCI Films Consulting Ltd. predicts a return to growth for this sector of the European polypropylene (PP) film market. Representing almost 50% of total European PP film demand, the West European BOPP film industry has struggled to gain any upward momentum over recent years due to factors including the region's economic weakness, changes in production strategy by multinational food packers and the maturity of the market. Growth in European markets at 1% per annum, and offsetting declines in West European BOPP film demand, has come from the greater use of cast polypropylene (CPP) film in Western Europe and strong PP film market growth in Eastern Europe. PCI author Steve Hillam commenting on the market situation said: "Demand in the European PP film market has undoubtedly been hindered by the weakness in the BOPP film sector in Western Europe. However, with demand returning, plus continued economic recovery, strong GDP growth driving East European flexible packaging consumption, and a continued switch from rigid to flexible packaging formats, I believe the future looks very positive for European polypropylene films." Responding to this growth will be more PP film being made available in the coming years with new film extrusion capacity coming on stream and existing suppliers improving their capacity utilisation rates.  While a majority of the new capacity is expected to be for BOPP film and will be installed in Eastern Europe, predominantly Russia, a new line is also being planned for Portugal.  This new capacity is expected to increase competition in the European PP film market by targeting imported volume but is also expected to be directed at export markets.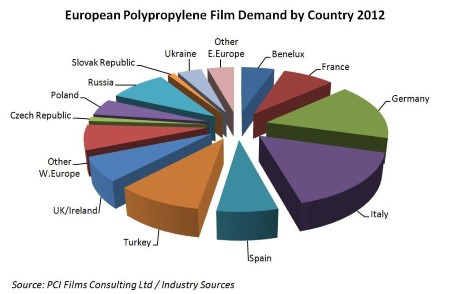 However, it is noticeable that there was no investment in new lines for the more traditional markets of Western Europe, Japan and the USA in 2011, where growth continues to be more much more modest, as per AMI. US demand was not too bad in 2011, expanding by nearly 3% - the highest in five years, but Western Europe saw only a 1% increase in volumes and demand actually declined in Japan. In Europe, the market weakened noticeably towards the end of the year because of the effects of the Eurozone crisis, and in Japan, demand was disrupted by the effects of the earthquake and tsunami in March. The high level of investment in new BOPP lines in 2011 in the emerging markets continues to challenge global supply and demand with average utilization rates slipping to around 74%. Utilization rates are expected to continue to fall as new capacity comes on stream in the period 2012-2013 before then recovering as production is ramped up. According to the report, BOPP film capacity is expected to increase by over 2.5 mln tons in the period 2011-2016 bringing total global capacity to nearly 11 mln tons. AMI believes the BOPP film market has the potential to continue growing at a strong rate of 6-7% pa over the next five years. This would add another 2.3 mln tons of demand. As was seen in 2011 the strongest growth is likely to continue to be in India, driven by the development of the organised retail sector opening up to foreign investment; in China, driven by government initiatives to increase domestic consumption and raise living standards of its rural poor; and in the Middle East and Africa, driven by general economic growth within this resource rich region.  Biaxially-oriented film production capacity and product development is being led by Asian firms after a long period dominated by North American companies, according to PCI Films Consulting. North American oriented film producers accounted for just 8.5% of total world film extrusion capacity in 2012 for BOPP, BOPET and BOPA films. For some time, North American producers have been slow to invest and are now unable to fulfill the region's domestic needs. This has resulted in increasing volumes of North America's demand for oriented films being met by imports. Much of the domestic film extrusion capacity in North America is now of an age that requires significant investment in order to compete with the imports from low-cost producers in other markets. This has resulted in some US firms withdrawing from the market rather than making the necessary investment, while overseas companies are making moves to capitalize on the opportunities present in the US market, such as Jindal Poly Films and the recent completion of its acquisition of ExxonMobil Chemical's global BOPP films business. Report author Simon King said: 'The North American market should be an attractive market to do business in. It has a growing flexible packaging marketplace, which requires significant quantities of BOPP, BOPET and BOPA films, and there is no reason why a production facility in the US can't be competitive. After all, two Indian and a Chinese company think the market is worthy of investment. North American producers should be showing their commitment to their customers and planning for the long-term.'
The global BOPP film industry continued to show robust growth during 2011 with demand advancing by 5.5% compared with 2010 to top 6 mln tons for the first time, according to AMI Consulting. Demand growth was slightly down on 2010, which had been the bounce back year from the financial crisis for most markets around the world. Global demand is increasingly being driven by developments in Asia, particularly in China, India and Indonesia. With over 60% of BOPP usage occurring in food packaging, it is the growth in demand in these countries for an ever-widening variety of packaged foods sold through supermarket outlets that is one of the principle drivers for this material. With large, youthful and growing populations, increased urbanization and rising incomes, it is the developing markets of Asia that will continue to underpin growth in BOPP film demand. AMI's analysis shows that China alone now accounts for 40% of global production and demand and on its own accounted for 2 percentage points of the global growth achieved in 2011. It accounted for 95% of all new capacity installed in 2011. Although production has and will continue to be primarily to serve the domestic market, the volume of output now is such that even modest export volumes have the potential to disrupt other markets. Chinese exports, which AMI estimated were 6% of production in 2011, are largely targeted at neighbouring Asian countries, but material can turn up in any part of the world from time to time. The strongest growing region in 2011 was the Indian sub-continent where the industry is developing from a relatively low base. Although it has a population comparable with China, its per capita consumption of BOPP film is one tenth that of China. Demand growth is expected to accelerate, driven by the opening up of the retail industry to foreign investment and rising income levels increasing demand for packaged foods and consumer goods. At least ten new lines are on order for delivery to India and Pakistan by 2013 that will add close to 300,000 tpa of new capacity. The region is also growing its exports and AMI believes that 20% of its production was exported during 2011. Other emerging markets in Asia continued to show strong growth in 2011 and attract further investment with new lines coming on stream in Indonesia, Taiwan and Vietnam. There were also capacity increases in Nigeria, Saudi Arabia and Peru.