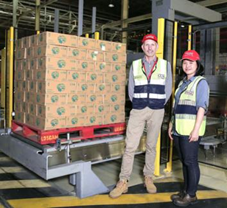 The installation of a complete end-of-line solution for Coca-Cola Bottling in Indonesia, namely at the Cikedokan plant in Bekasi, near Jakarta, has increased line efficiency at one of Indonesia's major beverage production companies by 50%.
This facility became the biggest plant in Asia-Pacific when The Coca-Cola Company (TCCC) reaffirmed a total investment worth some $500 million in March 2015 . In recent years, Coca-Cola has invested more than $1.2 billion in Indonesia , a dynamic and fast-growing market. With more than 260 million inhabitants, the country boasts the world's fourth largest population and a large, emerging middle-class with low consumption rates of non-alcoholic beverages. Over the course of the last four decades, it has undergone a rapid process of urbanisation to the extent that currently over half of the country's population now lives in or close to towns. The UN expects that by 2050, that figure will have increased to more than 65% . For economists, this represents a positive factor, as greater urbanisation together with growing industrialisation are essential for any country to acquire the status of a middle-income region.

Advanced solutions for a model factory
Founded in 1992, Coca-Cola Amatil Indonesia (CCAI) manufactures and distributes non-alcoholic ready-to-drink beverages in Indonesia, operating as a subsidiary of the Australian affiliate of US beverage manufacturer The Coca-Cola Company (TCCC), Coca-Cola Amatil Ltd (CCA). The company produces carbonated soft drinks, still beverages such as juices, teas, and isotonic drinks - and water, energy drinks and more in various packaging formats and sizes. It offers its products through large and small retail outlets, including supermarkets, mini markets and traditional outlets, as well as wholesalers.
The Cikedokan plant produces carbonated soft drinks and tea and juice in PET bottles and tea in plastic cups. The latter format is very prevalent in Asian markets, including Indonesia. The cups represent the ultimate on-the-go format, effectively providing a drink which is consumed in one go. It is convenient for a busy lifestyle - usually drunk in the street - and is ideally priced for those consumers on low to middle income streams. The original line - built with equipment from a variety of different suppliers - featured manual palletising at its end-of-line. This was causing lots of congestion, safety and labour-management issues, with a very large team of casual workers needed to carry it out. "It's quite hot work and difficult," explains Grant McClean, Technical Manager for Capital Projects at the plant. "At least, there are challenges in making sure that the work can be done safely." So, they started to search for an automatic palletising solution enabling a continuous production line with a more efficient use of labour.
He continues: "The thing we value very highly in a machinery supplier in Indonesia, of course, is the quality of the equipment - and that our supplier can provide its engineering capabilities during the sales process for us to discover the best machinery and the best solution."
Working closely with the team at the customer's site, Gebo Cermex engineers designed a new automatic palletising solution tailored to the Cikedokan' needs which comprises layer-by-layer palletisers, pallet conveyors and a stretch wrapper to cover the loaded pallets. Given the goal - to accommodate the production line to deliver 3,600 cases per hour - a system of three small palletisers, one from each packing area, connected with an unmanned shuttle-car system was considered to be the most economical and operationally efficient end-of-line solution. The shuttle-car was part of the solution proposed by Gebo Cermex, recognising the benefits it brought in terms of reducing the traffic of forklift trucks, thereby increasing site safety. The three palletisers supplied by Gebo Cermex are U-shaped with empty pallet infeeds and full-pallet outfeeds on the same side of the machine. The shuttle-car system continuously takes the loaded pallets to a pallet conveyor, upon which the pallets are stretch-wrapped before being taken to waiting forklift trucks. Then, they take them away for dispatch to the company's warehouses. On its return journey, the shuttle-car system also supplies empty pallets to the palletisers. Together with optimised efficiency and higher OEE (overall equipment effectiveness), this solution allows for a much better management of the labour force.
The team at the Cikedokan plant now has a more organised and efficient production line, which can run continuously and uses space in a smarter way.
Results exceed expectations
McClean underlines: "Within a few weeks of the installation, we conducted a test where the machinery exceeded the standards for acceptance that we had set at the start of the project by a large margin. In the operation that we have had since then, we've seen absolutely no decline in the efficiency of the equipment from the day of that test." All in all, since the implementation of the solution, the plant has seen a 50% increase in efficiency and higher OEE.

He continues: "One of our ambitions at Coca-Cola Bottling in all of our plants in Indonesia, is to pursue a strategy of lean manufacturing. Our Cikedokan plant is like a pilot plant; it's where we test our ideas for lean manufacturing and perfect them - before implementing them in other plants. And so, the end-of-line solution that we chose from Gebo Cermex had to fit in with our lean-manufacturing strategy."
McClean concludes: "Gebo Cermex provided us with a good solution, good layout design and good quality of equipment. After the sale, being supported with spare parts which are quickly available and after-sales technical advice for maintenance and problem solving on the equipment is also very important. Overall, we are happy working with Gebo Cermex because of the support and good project management from them."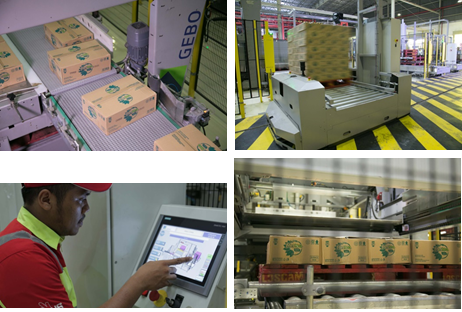 Editors Note: The images within this document are for illustrative purposes only and should not be used for reproduction. If high resolution copies are not attached with the document, please contact Josina van der Velden at EMG for copies – see contact details below.
-----------------------------------
For editorial, advertising and sponsorship enquiries, please contact:
Josina van der Velden
EMG
Tel: +31 164 317 014
Email: jvandervelden@emg-pr.com
For any other enquiries, please contact:
Sidel Group
Lucia Freschi, Public Relations Manager
Tel: +39 0521 999452/Cell: +39 3472632237
Email: lucia.freschi@sidel.com
About Gebo Cermex
Gebo Cermex works in partnership with Sidel as part of The Sidel Group.
The Sidel Group is formed by the union of two strong brands, Sidel and Gebo Cermex. Together, we are a leading provider of equipment and services for packaging liquid, food, home and personal care products in PET, can, glass and other materials.
With over 37,000 machines installed in more than 190 countries, we have nearly 170 years of proven experience, with a strong focus on advanced systems, line engineering and innovation. Our 5,000+ employees worldwide are passionate about providing complete solutions that fulfil customer needs and boost the performance of their lines, products and businesses.
Delivering this level of performance requires that we continuously understand our customers' challenges and commit to meeting their unique goals. We do this through dialogue, and by understanding the needs of their markets, production and value chains. We complement this by applying our strong technical knowledge and smart data analytics to support maximum lifetime productivity to its full potential.