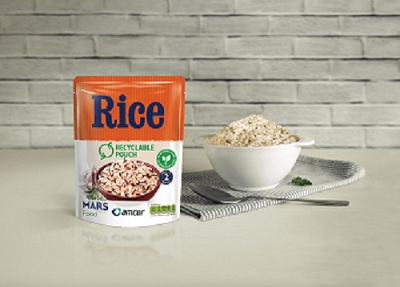 Mars Food has brought their first mono Polypropylene (PP) packaging for their microwavable rice pouch range which is designed for recyclability
Launched as a pilot, the roll-out has begun on Uncle Ben's® Ready to Heat Wholegrain rice,
Developed with global packaging partner, Amcor, the use of high performing mono-PP material will allow Mars Food to retain the shape, shelf life, functionality and high safety standards needed for its brands' packaging while allowing the pouches to be recycled where the correct collection and recycling infrastructure exists that accepts flexible plastic.
This achievement is a milestone step in Mars' Sustainable Packaging Plan, which outlines the business' commitment to achieve 100% recyclable, compostable or reusable packaging by 2025.
Several major retailers have recently announced in-store trials which offer flexible plastic collection solutions thus giving consumers a recycling route.
Effective collection and sorting systems alongside availability of recycling infrastructure are critical elements in building a circular economy for all packaging types. It is expected that by the end of 2021, nationwide in-store recycling will be available for mono PP flexible packaging, with in-home recycling available from 2023.
Source: Mars Foods