The global bio polypropylene market is estimated to exceed US$40.3 mln by 2022; as per a research report by Global Market Insights, Inc. With the market size pegged at US$28.9 mln in 2014, a CAGR of 4.9% is expected to register. Increase in lightweight plastics demand to optimize vehicle fuel efficiency and decrease overall weight is likely to drive the bio PP market size. These materials also find use in applications such as pressure vessels, medical technology and wind turbines, another factor which should drive overall demand.
Injection molding applications led bio PP Market share and accounted for over 52% of the global consumption in 2014. These applications are likely to witness significant gains, due to their use in manufacturing of injection molded parts for applications such as automotive, packaging, construction and electronics. Textile applications are anticipated to witness below average growth rate of 5.9%, from 2015 to 2022. Stringent regulations from EPA and the EU (Regulation No.443/2009) specify reducing carbon footprints and increase vehicle fuel economy, which should help industry participants find market acceptance. Preference of substitute products such as PLA & bio PET coupled with shale gas production from hydraulic fracturing is anticipated to hamper industry growth.
Key report insights suggest:
* Global Bio PP market size was estimated 11.4 kilo tons in 2014 and should register 18 kilo tons by 2022, growing at over 6% from 2015 to 2022.
* Europe's bio PP market share dominated global demand and accounted for 37.6% of the total volume in 2014, and is likely to grow steadily over the forecast period. Favorable government regulations promoting bioplastics usage coupled with presence of automotive giants in countries such as France and Germany is likely to drive regional demand. Injection molding application demand in Europe registered over 2 kilo tons in 2014 and is likely to grow at a CAGR of 6.5% up to 2022.
* U.S. bio PP market share is likely to witness significant growth, at an estimated CAGR of 6.5% from 2015 to 2022. Asia Pacific accounted for less than 20% of the market share and is anticipated to witness moderate growth rates over the forecast period.
Bio PP market share is presently at a nascent stage, with a number of companies focusing on raw material innovation to reduce cost. Companies operating in this market include Trellis Earth Product, Dow Chemicals, Global Bioenergies, Braskem and Biobent Polymers.

The global Bio-based PP market will reach US$36.19 mln by 2020, according to a report by Grand View Research. Global biobased polypropylene (PP) market is at a nascent stage of development and most of the companies are pursuing activities on manufacturing naturally derived isopropanol and n-butanol. Corn, biomass and vegetable oil are typically used for the manufacturing of aforementioned biobased products. Bioplastics industry growth and regulatory support regarding reduction of GHG emissions are expected to have a positive impact on biobased PP market. Growing lightweight materials demand in automotive coupled with favorable regulatory scenario for eco-friendly products is expected to drive biobased PP market growth over the next 6 years. Growing demand for substitutes such as PLA and biobased PET is expected to hamper market growth over the next 6 years. In addition, advancement in hydraulic fracturing has increased the availability of shale gas and oil, which has resulted in the reduction of petroleum prices. Increased availability of shale gas is expected to negatively impact biobased PP market over the next 6 years.

Global biobased PP market, by region, 2012 - 2020 (Kilo Tons)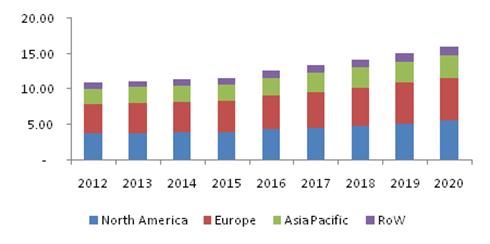 Biobased PP was majorly used in injection applications, accounting for more than 50% of market volume share in 2013. Gaining importance of lightweight materials in automotive sector is expected to fuel biobased plastics demand, which is expected to result in increased scope of biobased PP in injection applications. Automotive industry growth in Brazil, Mexico, China and Malaysia is expected to promote injection activities and is likely to have a significant impact on this market in the near future. Films followed injection applications in 2013, and accounted for more than 15% of global biobased PP market volume. Sustainable packaging market growth is expected to augment its demand in film applications over the next 6 years. Textiles are expected to witness growth on account of growing geotextiles demand as a solution to soil erosion and drainage applications.
Europe was the largest regional biobased PP markets in 2013, accounting for more than 35% of the global volume share. European Commission has framed numerous regulations supporting the use of biobased polymers due to their low GHG emissions during manufacturing and high biomass content. These factors have further resulted in the growing demand in Europe. North America is expected to follow Europe over the forecast period. Rising demand for biodegradable polymers within the rebounding construction industry of North America is anticipated to fuel the growth of this market over the next six years. Supporting regulations for biobased polymers implemented by regulatory agencies such as the EPA is expected to further contribute to the growth of the biobased PP market over the next few years. Asia Pacific is expected to witness below average growth owing to the abundant availability of synthetic PP due to the presence of several fossil fuel reserves. Rapid industrialization across Latin America, Middle East and Africa is expected to play an important factor in improving the economic condition of consumers in these regions. This in turn is expected to drive various sectors such as packaging, automotive, construction and electronics sector in the region over the next few years.
Trellis Earth Products, which acquired Cereplast in 2014, remains as a single manufacturer engaged in biobased PP. The company has production base situated at Seymour, Indiana and markets its product under the brand name Biopropylene. As of 2014, the company is using sugarcane as a raw material for biobased PP production and pursuing efforts on shifting to algae as a biobased feed stock. Former company Cereplast Inc. already launched its subsidiary Algaeplast Inc. intended for developing biobased plastics derived from algae in January 2013. Other market players include Global Bioenergies, Braskem, Dow Chemicals and Biobent Polymers.
Further key findings from the study suggest:
* Global bio-based PP market demand was 11.22 kilotons in 2013 and will reach 16.03 kilotons by 2020, growing at a CAGR of 5.8% from 2014 to 2020.
* Bio-based PP could be stretched and extruded to form BOPP (Biaxially Oriented Polypropylene) films, which could be used as a sustainable packaging material meant for use in snack foods, confectionaries and fresh vegetables.
* Europe will be the largest regional bio-based PP market, exceeding 30% of total demand in 2013. The positive regulatory framework for bio-plastics in Europe will have a positive impact on the market in the near future.
* North America will be one of the most promising markets for bio-based PP, and will witness growth in light of regulatory sanctions for automotive weight coupled with positive demand outlook in the U.S. and Mexico.
* The bio-based PP market is at a nascent stage of development with key companies focusing their efforts on raw material and application development.

As per Research and Markets, the global bio-polypropylene market to grow at a CAGR of 5.58% by volume during 2014-2019. Bio-polypropylene belongs to the family of polyolefins which is produced from renewable or plant-derived energy sources, such as sugarcane, starch, etc. Bio-polypropylene derived from sugarcane usually exhibits the same characteristics as that of the polypropylene generated from fossil feedstock. It is a thermoplastic polymer that is known for its tensile strength, firmness and resistant to heat. Bio-polypropylene can be co-polymerized to enhance the tensile strength and toughness. It is utilized essentially for injection molding and thermoforming applications, and is transformed into diverse parts for use in durable applications in packaging, automotive industry, etc. The growing number of strategic alliances is a major trend that will boost market growth. Strategic alliances, partnership and co-operation agreements, and joint ventures are being entered into in order to achieve breakthroughs in developing a cost-effective and scalable process for the production of bio PP on a large scale. According to the report, one driver that fosters growth in this market is the growing consumer preference for sustainable products. Bio PP is already used extensively as a packaging material for making beverage bottle closures. In addition, due to the growing consumer inclination to utilize bio-based products, food and beverage manufacturers are increasingly focus on using bio PP as packaging material as it is lightweight and has reduced wall-thickness capabilities. Further, the report states that the increasing availability of shale gas is a major challenge faced by this market. The expanded production of shale gas in the US has already diminished worldwide gas costs by decreasing the country's demand for liquefied petroleum gas.