Indian Industry Sector has shown a phenomenal performance over past few years. Creating innovative end-use applications will result in high market penetration, giving fillip to developing newer applications and new products would bring in new volumes. Growth of the Indian entrepreneurs will depend upon the way they can innovate the products. Innovation in end-use applications will have to be equally supported by advances in machinery and molds. Since introduction, plastics pipes have been perceived mainly for water applications. Time has come to look beyond and develop applications that are far different than the conventional applications. Efficient utilisation of machinery with multiple enduses help entrepreneurs increases the product mix and profitability. Due to versatility of plastics, there is ample scope for developing endless applications resulting in increasing per capita consumption of plastics through sectors like plasticulture, building & construction, infrastructure and automotive sectors and packaging. Innovations such as use of HDPE pipes during construction of buildings will bring in new endusers into the fold of HDPE pipes.

HDPE emerges as a key solution for this application bringing clean water to the doorsteps of Indian households. Not only HDPE offer an ideal solution for drinking water but leads to tremendous amount of savings in the cost of pipes in comparison to pipes made from traditional materials. Numerous advantages of HDPE coupled with low cost based on total life cycle analysis result in substantial savings. A very promising future exists for pipe application making it a very important sector in the field of plastics. Major Applications of HDPE Pipes are:
1. Agriculture
Flow line irrigation; lift irrigation, suction/delivery of pumps, siphons, tube-well pipes, water supplies, pesticide spraying system, and drip irrigation
Advantages - Life of pipe upto 50 years, Corrosion resistance, much lighter than metal pipes making transportation and assembling easier
2. Submarine & Underwater Pipeline
Pipeline effluent, marine outfalls, salt-water intake lines, rivers/canal crossings under water.
Advantages - Superior corrosion resistance, superior wear resistance, chemical resistance, lighter, better impact
3. Gas/Compressed Air System
Natural gas and coal gas conveyance and consumer distribution, conveyance and distribution of sewage gas, gobar gas, community biogas schemes, compressed air supply, networks at construction sites, mines and factories, air conditioning and ventilation ducts.
Advantages - Leak proof joint, better impact, Better crack propagation, insulation property
4. Hydro-Transport Systems
Iron/tin ore slurry disposal, boiler ash handling, coal, cement/clinker handling, sand slurry conveyance in mines, sand slurry disposal in dredging.
Advantages - Corrosion resistance, Abrasion resistance, Better impact
5. Chemicals & Edibles Transport
Conveyance of edible oils, fruit pulp and juices, milk and brine water, conveyance of acids, alkalies and other corrosive chemicals
Advantages - Chemical resistance, Corrosion resistance, Non toxic and food grade
6. Effluent & Waste Water Disposal Systems
Corrosive chemicals effluents, treated/untreated wastes and radioactive waste
Advantages - Chemical resistance, Corrosion resistance

Advantages of HDPE pipes over conventional pipes
Flexibility: They are best suited for lying in hilly and uneven terrains as flexibility allow the pipes to adapt to the contour of the land. Flexibility allows easy handling, laying and also easy transportation thereby reducing the overall installation cost. These pipes can be supplied in coils (from 20 mm to 110 mm OD) and in straight lengths.
Low specific weight: Light in weight as compared to conventional metal pipes such as GI, CI, MS because of its low material density. Due to low weight they are easy for handling, reduce transportation costs, reduce manpower and minimum installation cost.
Good chemical resistance: Are generally non corrosive thereby making them acceptable for use even in hostile environmental conditions. HDPE pipes are ideal for use in saline environments.
Perfect weld ability: Are joined by butt fusion welding and electrofusion welding techniques, which make these joints highly reliable.
Abrasion / Wear resistance: Excellent resistance to abrasion/wear. Due to this unique property these pipes are used for sand stowing of mines, dredging in ports, dewatering of mines, transportation of abrasive slurries e.g mineral ore concentrates, boiler ash, wood chips, paper pulps etc under high pressure.
Low coefficient of friction: Internal surfaces that is very smooth. Smooth internal surface offer excellent flow charecteristics and minimum pressure losses.
Tough and Strong: Are tough and impact resistant. They can easily withstand both internal soil pressures as well as external traffic loads when installed properly.
Good weathering resistance: HDPE pipes possess good weathering properties such as high environmental stress cracking resistance (ECSR). The black color of the pipes ensures resistance against UV Radiations.



The raw material for producing HDPE pipe for outdoor applications must be a black coloured compound containing well dispersed carbon black at nominal 2.5% carbon black content level. Machinery for the extrusion of pipe is available locally from reputed suppliers and consists of an extruder, die (centre fed/sidefed), a vacuum calibrator for sizing the tube, cooling bath, haul-off and a cutting unit. HDPE granules containing 2.5% carbon black are fed into the extruder. In the extruder they are melted, plasticized and then metered through a pipe die. The product coming out in the form of extrudate is sized in a vacuum calibrator or by an air pressure calibration into a pipe and completely cooled in a cooling bath. It is continuously pulled by haul off and then cut in the cutting unit.
The manufacturing process should ensure Uniform wall thickness, Smooth inner surface, Accurate geometry, Minimal weight variations per meter of the pipe

HDPE Pipes during construction of buildings (slots by sawing pipes for holding the persons hands & feet for preventing accidents)- 110 mm Outer Diameter, 14 mm thickness, 16 kg/cm2, 10 feet length & 100% virgin material, Life of these pipes is 10 to 15 years, HDPE Pipes with joints-Flange, nut, bolt could be provided into these pipes


(Source: Ranjit Popat, Fieldking Polymers)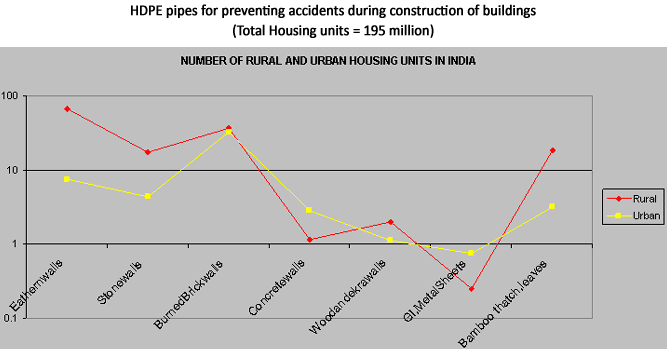 (Source : http://209.85.175.104/search?q=cache:ujBEjp9Nd0YJ:tejas.serc.iisc.ernet.in/curr) (Census of housing 1991)



Plastic pipes made up of high density polyethylene of 110 mm Outer Diameter, 14 mm thickness, 16 kg/cm2, 10 feet length & 100% virgin material could be manufactured with depression at regular intervals for labourers to stand in these slots as well as for tying of strings during the construction activity to prevent accidents. Plastic pipes do not cause injury to these workers and make it easy for these workers to climb up these pipes. This brings in a product made up of plastics which could bring in a high market potential in the country.


(Source: Ms Poorvi C. Desai, Sr. Manager, Business Development � Polymers, RIL Ltd.)