Global plastic packaging materials and products market to reach US$262.6 bln by 2015, according to Global Industry Analysts, Inc. Although the global economic recession subdued the US and European markets that make up the bulk of the plastic packaging industry, the industry is witnessing a resurgence driven by demand from emerging markets in Asia Pacific and Latin America, as well as unrelenting technological innovations. Following a brief lull during the onset of worldwide recession, demand for plastic packaging rebounded due to the rising demand from the food and beverage and consumer retail products sector. Plastic materials are fast becoming the preferred choice of manufacturers for packaging new products. With the development of stronger and cost-effective materials with improved barrier protection, and aesthetic qualities, plastic is expected to further encroach into the territories dominated by metal, glass and paper packaging materials. For the several years, European R&D institutions have at the forefront in developing new technologies for plastic film materials and manufacturing. Within the rigid plastic segment, PET and HDPE polymers are predominant. Of late, PET has almost completely taken over the mineral water and household cleaning products markets, and is a strong contender within the soft drinks market that is dominated by glass bottles and metal cans. Moreover, researchers are vying to formulate newer varieties of plastics that emulate the aesthetic qualities of glass, in order to tap the alcoholic beverages segment. Innovations such as squeezable bottles and one-stop closures are aiding the foray of rigid plastic packaging into newer sectors such as sauces, condiments and dressings. Plastic is second only to paper in the flexible packaging materials industry, exhibiting strong growth unlike glass and metal segments. Industrial packaging is expected to remain the major hub of demand for flexible plastic packaging with LDPE dominating the market. Lightweight flexible plastic packaging is also making waves in the consumer retail sector due to cost-efficiencies offered in production and transportation, as well as reduction of carbon footprint. Self-standing pouches offering better display of the product and labeling are also helping to optimize space in the retail shelf. Both rigid and flexible materials are finding increasing application in the healthcare and surgical packaging sectors, particularly from China, in the form of medicine bottles, sterile pouches, and IV bags. In recent times the IT hardware industry emerged as a major consumer of flexible plastic packaging. The demand for eco-friendly packaging made from bio-plastics is growing with products such as water soluble and edible plastics packs already finding their way into the fertilizers and confectioneries sectors respectively, in several developed economies. In addition, plastic manufacturers in several countries, including China and India, were hit by recent government regulations restraining the use of plastic carry bags and packages. Traditionally, US and European markets are the centers of demand for plastic packaging products due to the better lifestyle and consumer demand for convenience. However, in the upcoming years, emerging countries in Asia Pacific and Latin America are expected to fuel growth in the world plastic packaging industry due to the high GDP in these regions. GCC countries are also emerging as a leading hub for plastic packaging materials manufacturing. Going forwards, innovations in polymer materials, manufacturing technology and applications are expected to drive the expansion of the industry. However, the volatile feedstock prices are restraining production capacity in the industry.

As per another report by Visiongain, although the overall packaging industry was severely impacted by the economic recession, the plastic packaging market is gradually gaining significance through the latest technologies and enhanced products in the vast global packaging industry. The global plastic packaging market is a steadily growing market which is expected to follow a modest growth rate in mature markets and a progressive above average growth rate in emerging markets. Visiongain calculates that the global plastic packaging market will reach US$196.42 bln in 2012. Whilst the recession impacted demand for all types of packaging; upcoming environmental issues, changing consumer needs, high disposable incomes and improved packaging products, have resulted in sturdy growth for plastic packaging. Global packaging market and in particular, the plastic packaging market is expected to demonstrate solid growth in line with previously expected growth rates. The emerging economies, which in total maintained positive growth during the crisis, will continue to register strong growth, driving demand for sustainable, lightweight, user-friendly and enhanced plastic packaging products in the coming decade. Plastics have increasingly replaced traditional materials in the packaging industry because of their lightweight and superior functionality. Although the consumption of flexible plastic packaging is growing at a rapid pace, rigid plastic packaging still holds the majority of the market. A key trend that has been beneficial to growth has been a shift by the consumer to consumption at home. In an attempt to save money, many consumers are attempting to re-create the dining out experience at home, with intelligently packaged ready meals. As such plastic packaging applications are increasing in the food & beverage sectors. Also, the sub-markets of the consumer plastic packaging industry continue to rapidly develop, with stand out growth rates being witnessed in the personal care and healthcare sectors in particular. The plastic packaging market stands immune to the 2008's economic downturn as technological advancements related to lightweight, convenient and sustainable packaging will retain its demand in the industry. Furthermore, key industry players and manufacturers are opting for better materials made from renewable sources for packaging purposes thus keeping them out of the landfills. Environmental-friendliness and sustainability have become basic qualifying criterions for all packaging products. In this regard, the plastic packaging market is at a distinctive advantage since with the advent of biodegradable plastic and bioplastic, the plastic packaging market has gained an edge over other packaging materials, which makes it easier to recycle, reduce and reuse and raise its eco-friendly profile. The global plastic packaging industry is expected to exhibit solid growth, driven by three major drivers - escalating demand for lightweight and sustainable packaging solutions; healthier and better lifestyles worldwide; and rapidly developing emerging markets with improved disposable incomes and growing consumer demand for plastic packaging across all submarkets.
The global packaging industry will swell to almost US$820 bln by 2016 predicts Pira International. Driven mainly by increasing demand for packaging in emerging and transitional economies, a 3% pa growth rate will focus on board products and rigid plastics, with US$40 bln and US$33 bln in cumulative predicted growth respectively to 2016. This growth is being driven by a number of broad trends such as growing urbanisation, investment in housing and construction, a burgeoning healthcare sector and the rapid development still evident in the emerging economies, including China, India, Brazil and some eastern European countries. An increase in personal disposable income in the developing regions fuels consumption across a broad range of products, with consequential growth in demand for the packaging of these goods. For instance, increased demand for white goods, like washing machines and dishwashers, driven also by growing time pressure on consumer lifestyles, leads not just to a growing demand for packaging for the machines themselves, but also for associated products such as the household care products needed to operate these machines, thus stimulating demand across a range of packaging media.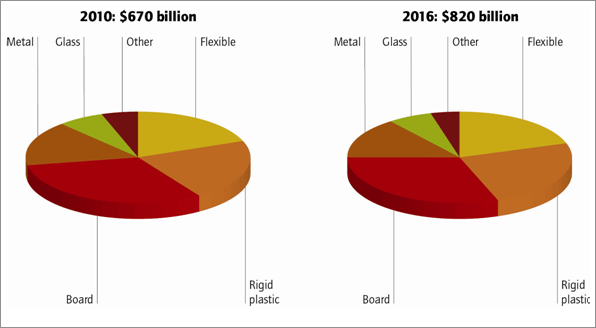 Robust growth in demand for rigid plastic packaging, especially in sectors like drinks, cosmetics, toiletries, and household and personal care products, is stimulating packaging consumption. Similarly, flexible plastic packaging materials are receiving a boost from sectors like perishable foods, healthcare, convenience foods and various industrial markets. Corrugated board consumption is being egged on by the processed food sector and a number of non-food applications including personal and household care, chemicals, electrical goods and others. At the same time, folding carton consumption is benefiting from the growth found in healthcare products, electrical goods, and frozen and chilled foods, among others. According to Pira, the US was the largest consumer for packaging in 2010 with a demand of US$137 bln; China was close behind at US$80 bln. China is anticipated to surpass the US by 2017, and India will enter the top ten packaging countries with its demand set to almost double in the next five years to US$24 bln. Technological developments in packaging are seeing an upswing in the consumption of bio-polymers in both rigid and flexible applications, improved value adding in products with functional and barrier coatings, as well as enhanced graphics, resource reduction by way of continuous light weighting across all materials, and other developments. Board products account for the biggest sector of the packaging market, totaling some US$210 bln in 2010 and maintaining their leading position into 2016 when the sector will be worth US$40 bln more at nearly US$250 bln. Research shows that food and healthcare packaging will continue to be the biggest end uses in global packaging, with the food and drinks industry growing by almost US$43 bln combined to 2016. The study shows that health care packs will grow 4.5% each year to reach a total of US$34 bln. Cosmetics packaging should grow 4.2% per year to reach US$24 bln.