Global polymeric foams market is estimated to reach 18 mln tons by 2015. Though this market faces subdued demand in recent times, future growth would be favored by manufacturer initiatives such as introduction of classification-free PU foams and emerging applications such as foamed PVC for windows, doors and house siding, and use of cross-linked polyolefin foam in sports and leisure goods, as per Global Industry Analysts, Inc. The market suffered a major setback during 2008 and 2009, following a dip in automotive production, contraction in construction activity, and reduced consumer spending, due to the adverse economic conditions. Several manufacturers, particularly those operating smaller or older units, were forced to close operations permanently, while those with multiple facilities sought to reduce operating rates or overcome the adversities by closing down some units. Resurgence in this market is also expected to stem from emerging demand from Asian economies and the construction industry's renewed focus on sustainable and green construction products. Polymeric foams are ubiquitous in their application as they exhibit exceptional insulating properties, buoyancy, impact-resistant characteristics and outstanding strength-to-weight ratios, among other attributes. Worldwide demand for polymeric foams across majority of the developed countries is forecast to remain weak in near future as the industry continues to be beleaguered with rise in feedstock prices and slow growth in replenished demand from major end-use markets. Polyurethane foam, produced either in rigid or flexible form, constitutes the largest segment in the global polymeric foams market, while Polyolefin Foams represents the fastest growing segment. Demand for polyolefin foams is driven by increasing the use of cross-linked polyethylene in applications such as sports and leisure goods. Potential opportunities for polyurethane foams stem from sustained demand for spray polyurethane foam in industrial and residential applications. The market is also expected to witness gain in the Do-It-Yourself sector, as people make use of the available free time to renovate and do repairs to their homes. The need to comply with new regulatory specifications and secure certification is also creating growth opportunities for manufacturers. With EU targeting a reduction of greenhouse gas emissions by about 20-30% by 2020, the region is likely to shift focus onto efficient homes, appliances and vehicles, in which polyurethanes have a critical role to play. Demand for polyolefin foams is driven primarily by increasing the use of cross-linked polyethylene in applications such as sports and leisure goods. Flexible foams are used primarily for cushioning while rigid foams find widespread use in thermal insulation. However, growth would be tempered due to environmental concerns regarding use of PVC. Between rigid and flexible variants, rigid foams segment is expected to witness faster growth through 2013. In developing regions, there exists significant potential for plastics as a replacement for traditional materials. Traditional material substitution as well as inter-polymer competition is expected to intensify as a result of introduction of polymers tailored with new catalysts and developments in alloying, blending and compounding. Further manufacturer efforts towards development of products that comply with the existing and restrictive chemical laws are expected to drive the future demand for Polyurethane foams. Asia-Pacific represents the largest and fastest growing regional market. Developing regions of Asia-Pacific and Latin America are expected to post relatively higher growth across the world. Asian, East European, and Latin American regions are witnessing a period of privatization of many industries, including plastics and chemicals. Countries in these regions are attempting to become more competitive in tune with industrialized nations. Consequently, the plastics industry has witnessed cost reduction programs, consolidation efforts and a series of foreign investments. Major players as per GIA, in the marketplace include Abriso N.V., Achilles USA Inc., American Excelsior Company, Armacell LLC, BASF Plastics, Bayer Material Science Polyurethanes, Carpenter Company, Celotex Limited, Evonik Foams, Fagerdala World Foams AB, FXI - Foamex Innovations, Huntsman Corporation, JSP Corporation, Recticel, Rogers Corporation, Sealed Air Corporation, Sekisui Alveo AG, Sonoco Products Company, The Dow Chemical Company, among others.

Europe, Asia-Pacific, and the United States dominate the world foamed plastics (polyurethane) market, as per GIA report on foamed plastics (polyurethane). Buoyed by the robust Chinese, Indian and Hong Kong markets, Asia-Pacific region represents the fastest growing PU foams market, with a CAGR of 4.9% over the analysis period. Middle East has been witnessing healthy growth over the past few years. Increasing investments in polyurethane production, coupled with new encouraging regulations has largely contributed to market growth in the region. Furniture/Bedding represents the largest end-use market for PU foams, globally, with Asia-Pacific region offering enormous growth opportunities for the segment. An ageing health conscious population is driving significant changes in the bedding industry. Mattresses are categorized as innerspring, foam, water, and air-filled, among which foam mattresses are likely to witness a booming growth. PU foam plays a significant role in the construction of mattresses due to its effectiveness in relieving pressure points. Demand for reactive polyurethane hot melt adhesives is likely to increase, which could displace solvent-based adhesives. Global polyurethane market is largely dominated by the four stalwarts, which include Dow, Bayer, BASF and Huntsman, in terms of production capacity. Competitive factors determining the player market presence include price, quality, and assortment of products and services. Major players profiled in the report include BASF AG, Bayer AG, British Vita Unlimited, The Dow Chemical Company, FXI - Foamex Innovations, Huntsman Polyurethanes, Mitsui Chemicals Inc., Recticel S.A, and Woodbridge Foam Corporation.

As per Freedonia, US foamed plastics demand will reach 8.4 bln lbs in 2013 as key construction and motor vehicle markets recover. Foamed urethane will remain the largest segment while foamed LDPE grow the fastest. Construction will provide the best opportunities based on growth in insulation and carpet underlay applications. The US foamed plastics industry is valued at US$22.5 bln. China polymer foam materials industry saw rapid growth with average annual growth rate of foam plastic output at 18.1% from 2001 to 2010, at 2,414 million tons in 2010, which accounted for two thirds of Chinese polymer foam materials market, as per Research In China.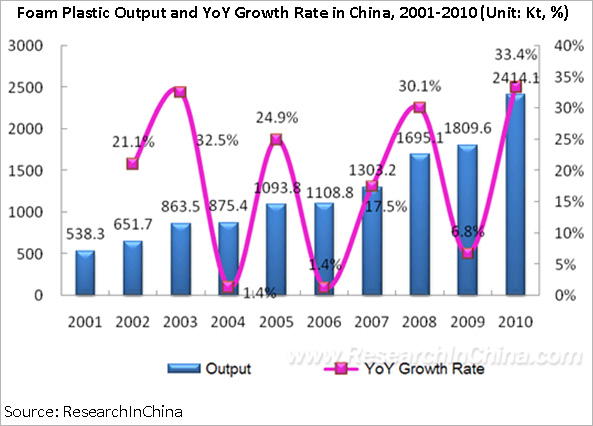 In China, there are numerous polymer foam materials production enterprises, but most of them are SMEs. The industry features fierce competition. The number of foam plastic manufacturers registered above 1,200 in 2010. Although China polymer foam materials industry has been mature, domestic producers mainly focus on medium and low-end products, some high-end products are still imported. Based on difference among raw materials, polymer foam materials can be divided into expandable polyurethane (EPU), expandable polystyrene (EPS), expanded ethylene-vinyl acetate copolymer (EVA), expandable polypropylene (EPP), expandable polyethylene (EPE), etc.
EPU: finds application mainly in such sectors as refrigeration, building insulation and solar water heater. Fueled by policies, the demand from Chinese markets of building insulation and solar water heater for EPU will present significant growth. Nanjing Hongbaoli and Guangdong Wanhua Rongwei Polyurethane are the key producers of polyurethane rigid foam combined materials in China, of which the former boasts the largest production capacity 90,000 tons in China, with the 60,000 ton rigid foam combined polyether project under way and its market shares to be expanded after the project puts into production; while the latter is a subsidiary of Yantai Wanhua and is the sole manufacturer which can independently produce polyurethane rigid foam combined materials, with conspicuous cost advantage.
EPS: In recent years, the EPS industry of China expands exceedingly fast, causing overcapacity and fierce competition. In 2010, China�s capacity of EPS exceeded 4 mln tons, but actual output registered less than 2.5 mln tons, with the operating rate merely 62.5%. It is expected that, in the next a few years, the oversupply of EPS in China is still hard to ease and the operating rate will continue to be constrained. Loyal Group and Wuxi Xingda Group are the EPS manufacturers ranking first and second by capacity respectively in China. In 2010, the production capacities of the two reached 1.34 mln tons and 990, 000 tons, respectively. Besides, they both have the EPS project under construction, and the production capacities of them will continue to grow