Rigid plastics are a grade of highly toughened plastics that are used for a variety of applications for the purpose of packaging of bulk and unit materials. They are non-corrosive, light, cheap, and easily moldable, which makes them a perfect choice for packaging. Processes such as extrusion molding, injection molding, and blow molding are used to produce different rigid plastic packaging products. The major end-users of rigid plastic packaging products are the food and beverage, healthcare, and consumer packaged goods sectors. Rigid plastic packaging has certain inherent properties that makes it ideal for packaging products. They are sturdy, durable, easy to transport, and are not brittle like glass. Their cost per unit of production is low and they have a wide variety of applications. Plastic packaging even aids companies in marketing and advertising campaigns by allowing innovative and attractive designs. The popularity of biodegradable rigid plastic packaging is fueling the market growth. With stringent environmental compliance regulations worldwide, vendors are more likely to use biodegradable plastics as substitutes.
The global rigid plastic packaging market is forecast to grow at a CAGR of 6% during the period 2016-2020, to reach US$225.8 bln by 2020, as per Technavio. The rigid plastic bottles segment occupied the largest share in the global rigid plastic packaging market in 2015 and is set to continue its lead during the forecast period. Rigid plastic bottles are used to package many products, such as juices, water, carbonated soft drinks, food products, cosmetics products, personal care products, and pharmaceutical products. The market will show moderate growth during the forecast period because of the boom in the retail industry coupled with the rise in the disposable income of consumers. The growing population, increase in urbanization, increased disposable income, and growing demand for beverages and household care products are boosting the market growth. A certain portion of their demand also arises from the pharmaceutical and healthcare industry to package sensitive fluid medication. Most of these containers are made from PET though other materials like HDPE, PP, and MDPE are also used. They can be molded into a variety of shapes and dimensions to pack anything ranging from cream to insecticides says Sharan Raj, a lead analyst at Technavio for packaging. The rigid plastic containers segment is expected to be the slowest growing segment in the global rigid plastic packaging market during the forecast period. The market in APAC is likely to grow rapidly because of the increased economic development in these countries. Growing demand for convenient packaging such as microwavable and dual ovenable packaging containers is forcing vendors to provide advanced, premium, and customized packaging solutions for their products. The demand for rigid plastic packaging is propelled by the expansion of retail distribution and improvement in polymer material products such as blow-molded bottles and containers, dispensing caps, thin wall packaging, and closures. The other rigid plastic packaging products segment includes different types of containers used for packaging, such as cups, lids, tubs, clamshell containers, pots, and cans. They are mostly used in the packaging of non-alcoholic beverages. Though the other segment occupied the smallest share of the global market, it is expected to grow at the fastest rate among all the segments of the global rigid plastic packaging market. Due to an increase in demand for convenience, portability, and portion control and smaller, single-serving products, the demand for tubs, cups, and bowls is expected to increase. The global rigid plastics packaging market is competitive because of the many big and small firms in the rigid plastics market. The competitive environment in this market is expected to intensify in the future, with increase in product extensions, innovations in technology, and more. "The vendors in the market compete on the basis of product offerings, differentiation, and pricing. The major customers of rigid packaging are distributed across verticals like food and beverage, pharmaceuticals and healthcare, and consumer goods. Some of the product offerings in this market include plastic trays and containers, plastic bottles and jars, plastic tubs and pots," says Sharan.  

Zion Research reports that global demand for plastic packaging was valued at US$270 bln in 2014, and is expected to reach US$375 bln in 2020, growing at a CAGR of 4.8% between 2015 and 2020. In terms of volume, the global plastic packaging market stood at 81,750 kilo tons in 2014.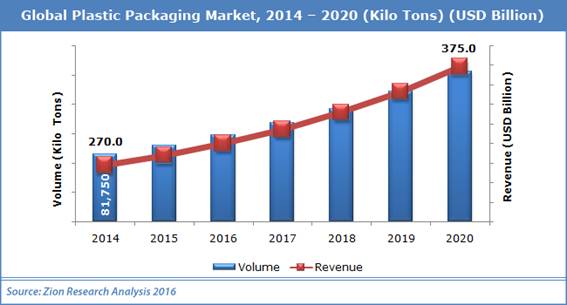 Asia Pacific was dominating regional market for plastic packaging owing to strong demand from China and India. It accounted for around 35% share of the overall market volume consumption in 2014 and further expected to remain major regional market for plastic packaging due to the heavy consumption of packed foodstuff and changing lifestyles during the next five years. Asia Pacific was followed by North America and Europe. Both the regions are expected to have lucrative demand during forecast period. Food & beverages packaging applications segment was the largest segment of global plastic packaging industry and accounted for around 55% share of the entire market in 2014. It is expected to remain the prominent application over the forecast period owing to high demand of packed food. Moreover, plastic packaging is expected to witness the fastest growth from the medical application segment in next five years. Asia Pacific was dominating regional market for plastic packaging owing to strong demand from China and India.

As per Persistence Market Research, the food and beverage industry, the largest consumer of rigid packaging, is expected to dominate the market during the forecast period. Other major end-user industries for rigid packaging industry include pharmaceutical and personal care industries. Asia Pacific has the largest market share for rigid packaging, followed by North America and Europe. Asia Pacific is expected to witness highest growth in the rigid packaging market during the forecast period. Emerging markets such as India and China are expected to boost the market in this region. Other markets for the rigid packaging industry include Brazil and the Middle East. Increasing popularity of reusable products for packaging is driving the global rigid packaging market. Moreover, increasing number of nuclear families and increasing demand for convenience food and other products is expected to provide ample growth opportunities to rigid packaging in the global market. Also, new packaging material development coupled with availability of smaller pack sizes is further providing growth opportunity for the global rigid packaging market to some extent. Increasing demand from end-user industry along with rising urban population especially in the Asia Pacific region is propelling the rigid packaging market. Some of the major companies operating in this market are DS Smith Plc, Holmen AB, Georgia-Pacific LLC, MeadWestvaco Corporation, BASF SE, Amcor Limited, Berry Plastics Corporation, The Dow Chemical Company, Reynold Group Holdings Limited, Sealed Air Corporation, and RESILUX NV.