The global beverage packaging market, valued at over US$186 bln in 2015, is expected to increase at a compound annual growth rate of over 3% through 2020 and beyond, as per Future Markets Insights.  In the backdrop of innovation in packaging techniques, beverage companies are able to experiment with their packaging, enhancing their functionality and sustainability.
Plastic bottles are becoming more ubiquitous by the day owing to their advantages over glass bottles. Choosing plastic over glass is an easy decision for manufacturers looking to reduce weight, speed up transportation, and reduce packaging costs. Polyethylene terephthalate (PET) bottles are expected to witness steady demand from end-use sectors during the forecast period 2015-2025. Beverage packaging has relied upon the mass production model for years; however, as consumer aspirations shift to personalisation and greater customisation, brands are adopting collaborative design ideas to cater to the shifting trends. Co-creation is gathering steam in the beverage packaging landscape, with Coca Cola and Nutella collaborating with consumers to create the packaging that they desire. Packages designed for one-person households are gaining traction as the percentage of one-person households continue to increase in key, lucrative markets. During the forecast period, multipacks of individual portions will include a significant revenue share of the global beverage packaging market.
The next-generation packaging market, valued at over US$32 bln in 2015, will witness steady increase in global revenues, and reach US$58 bln by 2025. Active packaging, intelligent packaging, and modified atmosphere packaging are expected to gain adoption among end-users. Asia Pacific (excluding Japan) and North America will continue to be the two largest markets for beverage packaging globally, closely followed by Western Europe. The beverage packaging market in APEJ will continue to witness steady gains during the forecast period. Accounting for a revenue share of over 25% in 2015, the APEJ market will continue to offer growth opportunities to existing and new entrants, as the beverage industry in the region witnesses a period of progression. Among all the regions, the market will witness fastest gains in APEJ.
CSD/soda will continue to account for highest revenue share by application segmentation. Other key application segments in the beverage packaging market include dairy and juice/soft drinks. Among all the application segments, demand for plastic packaging is higher than glass bottles and cans. In the CSD/soda packaging segment, plastic packaging accounted for a market value of nearly US$37 bln in 2015, compared to US$12 bln worth of cans and US$5.4 bln worth of glass bottles.
Visiongain assesses that global beverage packaging market will generate revenues of US$112.4 bln in 2016. The beverage packaging market is set to grow in the next 10 years at a fairly steady rate. Global growth will remain modest due to the financial and geopolitical climate in the next decade. Commodity price decrease as well as a slowdown in the Chinese economy will have a large effect on the production worldwide. However, given the current geopolitical tensions around the world, the GDP growth will remain modest but stable for the coming years. Nevertheless, there are many factors weighing on the development of beverage packaging technologies and their growth trajectory. The growing population, economic development of emerging economies, a shift from the commodity driven economies to consumer driven economies, worldwide sustainability concerns and other factors will contribute to the development of the industry. One of the main factors is the lower crude oil prices seen in recent years which are contributing to higher profits by manufacturers of plastic packaging materials. Furthermore, the lifestyle of consumers shifting to convenience, define the trend towards a single or portion based packaging instead of the standard packaging.
One of the key trends will be the rising population, as the demand for food and beverages will be higher in the next 10 years and thus the demand for beverage packaging will grow commensurately. The location of this population will also have a major impact on the beverage packaging market in the future. Urbanisation globally is ever increasing and in particular it is accelerating in the emerging economies such as India and China. This means that more convenience products will be demanded as these consumers are more time constrained thus the demand for packaged goods will increase and this will mean beverages too. Further to this, with the development and growth of these emerging markets there will be more middle class consumers with higher disposable incomes and the demand for premium beverages will also increase and thus once again the demand for beverage packaging will increase.

As per Zion Research, global demand for beverage packaging market was valued at US$108.4 bln in 2015, is expected to reach US$138.7 bln in 2021 and is anticipated to grow at a CAGR of 4.2% between 2016 and 2021. Packaging plays an important role in the beverage industry. Proficient packaging solutions offer advantages such as disposability, ease of use and improved user experience. These advantages have lead to an increase in demand of beverage packaging solutions. The main purpose of packaging is to preserve, protect, and promote the product.
Beverage packaging market is directly proportional to growing demand for various types of beverages. Beverage packaging market is driven by several factors like increase in beverage consumption, and the growing demand for long shelf life of the product. Lightweight packaging material has become an essential factor in the market and having significant influence in beverage bottles and cans segment. This is further driven by environmental pressures from government, and low material usage for packages means low costs, which are always beneficial for both brands and retailers. Moreover, stringent government regulation for environmental safety may affect the market growth.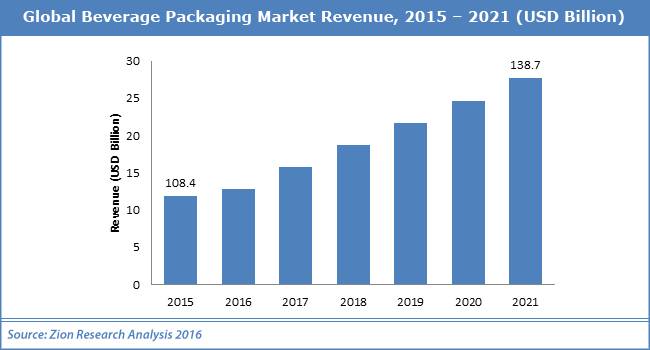 On the basis of packaging type market is divided into bottles, cans, pouch, and carton. Bottles and cans represented the significant share in global beverage packaging market. The material segment includes glass, plastic, metal, and paperboard. Plastic continue to represent the highest growing beverage packaging material due to rising consumer demand and portability. Alcoholic, non-alcoholic, and dairy are key application segment of beverage packaging market. Beverage packaging market in Asia-Pacific is expected to show massive opportunities for market owing to rapidly growing beverage consumption in the region. Large population coupled with increasing income levels in developing economies such as China and India are expected to drive the beverage consumption in the region. Furthermore, availability of skilled workers, low cost of production and government funding are expected to further boost the market growth in the region. North America was the leading market player in 2015 owing to the presence of a large number of key players in the region.

The beverage packaging market is considered to be one of the most dynamic packaging markets with shifts in types of packaging and materials used varyingly across regions. The global beverage packaging market is expected to grow from US$97.2 bln in 2012 to US$125.7 bln by 2018, according to a report from MarketsandMarkets. In the global beverage packaging market, the major types are bottle, can, pouch and cartons, in which beverages are served. Consumer preferences, product characteristics, and material compatibility are essential to determine the type of packaging.
The alcohol segment, although dominated by bottles and cans, are bound to grow in the case of alternative materials for bottling. Non-alcoholic beverage packages are witnessing a gradual increase in preference for cartons and cans. Dairy beverages are mostly served in pouches; however, flavored and drinkable yoghurt creates a demand for other forms of packages. Asia-Pacific has the highest market share and is witnessed to be the fastest-growing market. Europe's growth is driven mainly by the East European markets. ROW is also expecting to experience growth in the beverage packaging market in future.
Dairy beverage packaging market is the fastest-growing market, with growing health concerns and knowledge about the nutrition value driving the dairy products. Non-alcoholic packaging is estimated to be the second fastest-growing market in 2013. Alcoholic packaging has the highest share, but the market has reached a maturity level and has a low growth rate as compared to the other two segments.