Globally shoppers use around 500 bln single-use plastic bags every year and this number continues to rise. However, many countries across the world, have banned the use of lightweight single-use plastic bags or have started taxing it. In addition, consumers are also becoming more concerned towards the environmental impact of plastic packaging solutions. This has compelled business to look beyond the use petroleum-based plastics to alternatives derived from plants, or even synthesized by micro-organisms. Bio-Degradable Packaging market is mainly driven by the growing conscientious population and government regulations focusing on the reduction of wastage and usage of Bio-Degradable packaging materials. However the lack of supply of bioplastics and the higher cost of materials are hindering the growth of this market. Europe is leading the market with 45% share in 2015 followed by North America and Asia Pacific. The starch based and cellulose derived solutions will continue to hold the largest market share.

As per Statistics MRC, the global bio-plastic packaging market is valued at US$6142 mln in 2015 and is expected to reach US$25368.7 mln by 2022, growing at a CAGR of 32.7% from 2015 to 2022. Bio-plastic packaging is a highly intensive market witnessing more than 50% of biodegradable plastics market demand. Global market is anticipated to witness growth owing to increasing customer attentiveness to ecological products. Shifting partiality from artificial chemical products to environmental substitutes is expected to boost the Bio-plastic packaging market growth. Huge complications involved in the production through agro-based raw materials are anticipated to be a challenging factor for market in the near future. Increasing adoption of bio-based PET in packaging due to rising R&D expenditure by beverage manufacturers is probably to exploit new markets over the forecast period. The factors restricting the market growth include high cost of production as bio-plastic is not easily recyclable, lack of commercial conversion technology of agro based material to bio-plastic, and limited use of bio-plastic for the packaging attributed to the premium pricing of the bio-plastic. Europe commanded the global market in 2014 followed by North America and Asia-Pacific. Several European countries have adopted bio-plastic packaging, driving the regional market. However, Asia Pacific is the fastest growing region in the market and is anticipated to grow at a highest rate over the forecast period. Asia Pacific is commanding the global market in terms of production. With the constant rise in awareness about the environment and pollution and greater emphasis on sustainability, the governments of several Asia Pacific nations are focusing on the recycling of plastic products, which has boosted the growth prospects for the market in this region. The packaging and food services segment is anticipated become the commanding shareholder in the global market over the forecast period.

According to a report published by Credence Research, the bioplastic packaging market has been estimated to be valued at US$ 6,765.9 mln by the end of 2016, and is expected to reach US$ 46,490.5 mln by 2023, expanding at a CAGR of 31.7% from 2016 to 2023. The requirement for sustainable and affordable packaging for varied range of products across different industry including food and beverage has increased over the past few years. Bioplastic packaging has gained traction all over the world due to adaptation of the products by different manufacturers. The sector of bioplastic packaging is a small segment and is at nascent stage when compared to overall packaging industry of the globe. However, recent advancement and change in techniques has boosted the global biodegradable food packaging market. Increasing consumer awareness related to utilization of biodegradable based products is anticipated to intensify the growth of the bioplastic packaging market till 2023. Increasing significant environmental concerns all over the world due to increase in pollution along with higher consumer preferences for biodegradable material based products is anticipated to foster the growth of bioplastic packaging market over the forecast period. Apart from this, advanced production process and innovation in technology adopted by bioplastic packaging manufacturers is expected to spur the growth of overall bioplastic packaging market during the period 2016-2026.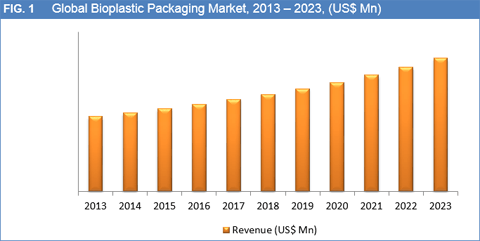 Bioplastic packaging market is segmented on the basis of product type such as Bio-PET, PLA and PLA Blends, Starch Blends, others. In 2015, Bio-PET segment contributed the highest revenue share of the total bioplastic packaging market. The starch blends packaging is anticipated to expand at a robust CAGR till 2023. The global bioplastic packaging market is further bifurcated by application which includes food & beverages, kitchen utensils, electronics industries, and others. Food and beverages segment marked the highest revenue share in bioplastic packaging market in 2015. Rising awareness towards sustainable and affordable packaging solutions as well as change in mindset of people i.e. preferences for recycled based products instead of synthetic one is anticipated to expand the growth of segment during the forecast period.

As per Future Market Insights, increased consumer preference towards biodegradable materials coupled with the growing environmental concern is expected to boost the overall growth of the biodegradable packaging market. Most of the major packaging companies are now shifting their focus towards biodegradable packaging in order to achieve greater consumer satisfaction, and also to differentiate their products from that of the competitors.  This segment is expected to witness the fastest growth than that compared to the plastics packaging market. Though it is a relatively new market, it is expected to capture the existing market share of the non-biodegradable plastic packaging market. The food packaging and beverage packaging market is expected to play a crucial role in driving the overall global biodegradable packaging market. However, lack of government support especially in the developed countries is expected to curb growth of the market. The presence of huge price difference between the biodegradable packaging and other conventional packaging is further expected to hamper the growth of the market.
Europe and North America are expected to dominate the overall market of biodegradable packaging. North America is expected to be the largest consumer of the biodegradable packaging market. The developed regions are expected to dominate the overall biodegradable packaging market owing to the presence of mature markets that consist of highly environmental conscious consumers. In addition, the presence of high-spending population is also expected to increase the overall demand for biodegradable packaging in the developed regions. The presence of large populations in Asia Pacific is expected to boost the biodegradable packaging market. Owing to the increase in the contract manufacturing process coupled with increased governmental interest to promote biodegradable products by providing incentives in some countries such as China and India is further expected to contribute to the growth of the market. FMI says that the biodegradable packaging market is highly fragmented in nature. Some of the key participants of the biodegradable packaging market include International Paper, Natureworks LLC, Biopac, BASF SE, Stora Enso, Smurfit Kappa Group, Rocktenn, Clearwater Paper Corporation, Georgia-Pacific LLC and Novamont S.P.A among others. The companies mainly strive towards developing new technologies to manufacture biodegradable packaging material from various easily available natural resources. There are also huge investments in the research and development in order to develop innovative product which in turn would help the companies to gain competitive advantage in the market.

The global bioplastics for packaging industry is forecast to grow from 2017-2022 at an annual average rate of 17% to a market value of almost US$7.2 bln according to research from Smithers Pira. Consumption is projected to reach 1.06 mln tons in 2017, with a market value of US$3.4 bln. The markets currently represent a very small share of the global plastic packaging market value, but it will grow very strongly - more than doubling in value across the forecast period. The most successful organisations in this fast developing segment will be those that most effectively meet the remaining key challenges facing the commercial adoption of bioplastics in packaging. Firstly this involves identifying those opportunities where a premium can be expected for a naturally sourced product, overcoming biopolymers negative cost competitiveness versus petro-polymers caused by falls in world crude oil prices since mid-2014. Furthermore in packaging applications where it is technically possible for bioplastics to replace oil-based polymers, suppliers will also have to manage the problems of higher production costs, capital availability, and limited availability of bio-based feedstock over the coming years.
While the potential market for bioplastics is huge, consumption rates will depend on whether producers can grow their production capabilities fast enough and at acceptable cost/performance levels to meet demand. Decades ago, the oil refinery and petrochemical industry successfully implemented the use of added-value business models. These business models generated high levels of profit by integrating the supply chain from the oil well head all the way through chemicals and polymer production. This allowed producers to operate an integrated raw material and polymer complex with very few middle-men and therefore captured profit at each level of the supply chain. It is expected that the biopolymer sector will adapt an added-value business model in a similar way. Unlike oil refineries, a bio-refinery will be capable of processing many different types of biomass, including sugars, cellulose and various plant oils.
In the future, the development of new technologies will ensure the emergence of new types of polymers and improved ways of producing currently available biopolymers for various end-use applications. Future biopolymers will offer improved rates of biorenewability and biodegradability, as this rate is an important factor in achieving market acceptance. In terms of geographical development, Europe is the largest regional market for bioplastic packaging with a 31% share of the global bioplastic packaging consumption. It is now at the forefront of research and development work, but will account for less than 10% of bioplastic production capacity and a have a diminishing share of bioplastic packaging consumption by 2022.Most of the currently planned volume production facilities are being implemented in Thailand, India and China, and over 75% of bioplastics will be produced in Asia by 2022. In terms of end-use categories, non-food is the largest area of application for bioplastic packaging in 2017, accounting for almost 46% of global consumption. This reflects significant bioplastics consumption for garbage bags and carry-out bags. Food is the second largest end-use sector, followed by beverage bottles. Bioplastic beverage bottle consumption has grown dramatically since 2012, following the introduction of bio-derived PET for soft drinks bottles, and will account for almost 22% of bioplastics for packaging consumption in 2017.