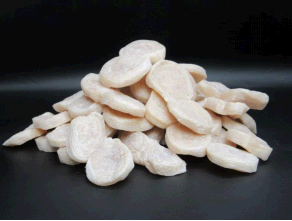 In line with the "Denka Value-Up" management plan growth strategy of pursuing the specialization of key operations as part of a business portfolio transformation, Denka developed its third high-performance elastomer, "Evolmer," which follows DENKA Chloroprene and DENKA ER onto the market.
Evolmer combines our elastomer technology, cultivated over the many years spent developing DENKA Chloroprene and DENKA ER, with our advanced precision polymerization technologies, which are rooted in the development of high-performance styrene resins. Evolmer has excellent mechanical strength, oil resistance, and abrasion resistance. In addition, the material's compression set remains low at low temperatures, and it has excellent flex fatigue resistance in dynamic environments. Evolmer has well-balanced properties that set it apart from any previous elastomer.
This new material can meet the diverse and highly demanding requirements of the automotive, construction machinery, electric equipment and electronics fields for sealants and fiber treatment materials. It can be used as an alternative for hydrogenated nitrile rubber, a high-quality, high-performance elastomer, as well as other materials. A number of customers are currently evaluating samples of Evolmer and thus far feedback has been positive.
The production base for the new elastomer is the Omi Plant in Itoigawa City, Niigata Prefecture. A new line will be installed in October 2018, and Evolmer will be released on the market in January 2019. We plan to achieve sales of 1,500 tons per year by 2022.
Going forward, we will continue to develop high-performance elastomers and provide new products through highly innovative manufacturing processes that deliver new value and inspire our customers.
Note: Evolmer, DENKA Chloroprene, and DENKA ER are registered trademarks of Denka Company Limited.